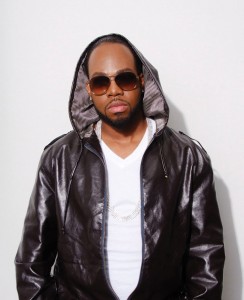 "Greather Than One" Dwele's fifth album was released August 28th through E1 Music. Dwele previously appeared on Kanye West's "Flashing Lights."
Over the years, Dwele has become one of the leaders of the neo soul genre. Despite the occasional collaboration with big names in hip-hop and features on hit songs including "Flashing Lights" by Kanye West, Dwele has remained an independent artist, which allows him to craft something special with each album.
Dwele's fifth studio album, "Greater Than One," was released Aug. 28 through E1 Music. Although you won't see it topping the Billboard charts, this album is worth purchasing for the sake of enjoying the 13 songs over 49 minutes. What sets Dwele apart from all other singers right now is his ability to share stories through his music. On top of that, he's an incredible instrumentalist who creates an amazing setting for his lyrics to shine. The new album once again shows the progression of the soul singer as he builds a sound that's different from past albums; it's reminiscent of '80s music but with a modern twist.
The album tells the story of past lovers through the nostalgic perspective of Dwele. The opening line from "Greater Than One Less Than Three" is "Desire blinded me at first," which sets the tone for the rest of the album as he dives into issues of commitment, trying to maintain a relationship and more.
"Going Leaving" truly kicks off the album with the jazzy, soulful sound fans are used to listening to from Dwele as he talks about a relationship that he was unable to commit to, which he regrets now. "Takes22Tango" continues to build on the groove, leading into "What You Gotta Do," which features fellow soul singer Raheem DeVaughn. This song focuses on how to keep "her" happy, while the album's lead single, "What Profit," sheds light on desires and greed taking priority in a relationship. The single picks up the tempo again before slowing it down for a song that many babies will likely be conceived to over the next few years. "Obey" is the perfect song to play if you're looking to set the mood (hint, hint, gentlemen).
"This Love" brings back the funk before moving into the Detroit anthem, "Must Be," which features Black Milk, who delivers the album's only true rap verse. His flow and approach to the track is incredibly unique, which acts as a nice changeup at this point of the album.
Dwele then introduces a new word, "Swank," which is used instead of "swag" before hitting the club on "PATrick RONald." He shows his versatility with the party vibes presented on this track inspired by Patron, in case you couldn't tell from the capitalization of the song title.
The album comes to a close with three great songs, starting with "Special," which sounds like a classic Dwele track. Next up is "Love Triangle," which takes the listener back to a night when Dwele chose the friend willing to give it up instead of the one he truly wanted and got stuck in a bit of a quandary. And last, but definitely not least, "Greater Than One" ends with "Frankly My Dear (I'm Bennett I Ain't Innit)," a story about the end of an affair. Dwele definitely saved the best for last, as he creates incredible synth lead harmonies on the chorus of this smooth record.
Overall, Dwele has once again delivered an amazing album with "Greater Than One." It features a little bit of everything you'd hope for from a soul album and then some: music you can party to, relate to, and of course, make love to. No matter your mood, "Greater Than One" should always have a place on your playlist.