Gramatik performed at The Trocadero Theatre Oct. 5 with Extraordinary Magnitude and Russ Liquid.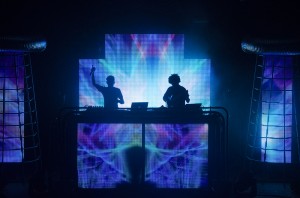 ExMag is Gramatik's side project with artists Eric Mendelson, Drastiq, Buffalo Analog and Illumntr. Together they produce music that sounds similar to electronic dance music but is more accurately described as futuristic funk.
Russ Liquid also really got the crowd moving. The one-man band mainly played trap music, although much of his work has a jazzy, psychedelic vibe. Across genres, his songs always have infectious beats. Russ Liquid combines the vintage sounds from vinyl with futuristic electric beats. The music he creates is incredibly distinct and worth a listen. In fact, he makes much of his music available on SoundCloud for free!
While the stage was being set up for Gramatik, I got a chance to look around the venue. The Trocadero is a 19th-century Victorian theatre. Although it has undergone serious reconstruction, much of the original beauty of the interior structure still stands. The stage is outlined with elegant flowering and interlace. At each end of the stage are beautiful moldings that mimic the mantel of a Victorian fireplace. The domed ceiling creates incredible acoustics. The best view of the place is most definitely from the balcony.
After a long intermission, Gramatik took the stage. Gramatik is the pseudonym of Denis Jasarevic, the beat-dropping music producer and disc jockey originally from Slovenia. He champions the belief of free file sharing, or "digital freedom." This has helped to generate a massive fan base for him in Europe and the United States.
Gramatik was previously signed onto the Pretty Lights Music record label, but he left the label earlier this year. Determined to make it big on his own terms, Gramatik started his own label, Lowtemp. The label is entirely independent, and the only groups that are able to use its name are Gramatik, Extraordinary Magnitude, ILLUMNTR and Gibbz & Branx.
Gramatik's set demonstrated his growth as an artist through his discography, from "Dreams About Her EP" and "Street Bangerz Vol. 1" in 2008, to "Beatz & Pieces Vol. 1" and "Expedition 44" in 2011, to "#digitalfreedom" in 2012 and "SB4" in 2013, not to mention a few others through the years. Near the end of Gramatik's performance, Mike Gibney, Gramatik's sound engineer, stormed the stage with his passionate and soulful voice. Gibney sang three groovy songs and filled the stage with personality and spunk. With a background in acting, it was clear that he was comfortable being onstage.
The party would have lasted all night if the venue had permitted it. The show wound down during the wee hours of the morning as tired fans slowly poured out the front doors and into the cold streets of Philadelphia.