If you're hungry and looking for a unique burger experience, I suggest grabbing a friend and hitting The Spot Food Truck. Painted in red and yellow, Spot is a gourmet burger truck located at 33rd and Arch streets, seeking to serve college students on Drexel's campus.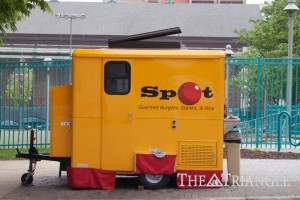 If you get to know the owner, Josh, he will tell you all about the process he takes to prepare the most unique burger while staying within the lower price ranges in order to make the meal affordable for poor college students.
Opening at around 11:30 a.m., Josh aims to sell out every day to keep the product fresh, which means the truck usually closes at around 6:30 p.m.. However, his day doesn't end there. On Sunday and Wednesday he cubes the meat to be drained, but the fresh sirloin butt beef is grinded on a daily basis after sellout. This ensures that the meat maintains its cherry-red exterior to be both fresh and aesthetically pleasing for the customers. This process results in juicy ground beef and a lower-priced, quality burger. However, this is also a very time-consuming process.
This daily routine leads to strains in Josh's hand and arm — a result of creating a product that he still chooses to make day after day. Josh explains how extra labor for him reduces the price for students because purchasing expensive ingredients skyrockets the prices of the product. The heart and soul that Josh puts into each individual product truly shows as he makes each burger his own individual masterpiece.
The menu features a wide array of burgers, and no two are alike. The menu offers a choice of seven different gourmet burgers, plus the option of the weekly special or build-your-own. For my meal I chose the umami burger, which was filled with their third-pound, 100 percent ground sirloin patty topped with lettuce, pickled daikon, grilled onion, mushrooms, gochujang and teriyaki sauce. The sirloin beef was smooth and marinated to perfection, without excessive amounts of fat or tendon.
As an onion and mushroom lover, I feel as if it added the necessary components of any burger. However, the pickled daikon didn't stand out to me and was barely noticeable due to its small quantities in comparison to the rest of the burger. Although I am a fan of the Japanese teriyaki sauce and Korean gochujang, a mixture of fermented soybeans and red chili, the combination of all these ingredients did not work for me in a burger. I had high expectations with the culmination of all my favorite ingredients but ended up leaving disappointed.
However, the fresh-cut fries were more satisfying and reminiscent of a thinner version of Five Guys' potato-skinned fries. However, with the burger priced at $6 and the fries priced at $1.50, it was worth a try, especially compared to the more expensive burger joints in the area, such as Bobby's Burger Palace and New Deck Tavern.
Overall, I enjoyed the ingredients separately but not in their exact combination. However, the amount of care put into each burger by Josh is more than enough to warrant a return to Spot. I'm eager to build my own burger with Spot's unlimited toppings so that the burger can be created to my own personal taste.
To see Spot's specials and most updated business hours, visit the Spot Twitter page @Spotburgers.