It has always been difficult to assign a genre to Gorillaz, Damon Albarn's so-called "side project" that recently celebrated its 10-year run of hip-hop smashes, post-modern ditties and infectious dance tracks. The virtual band's foundation was built on collaboration, and the Feb. 23 release of the promotional track "DoYaThing" may just be its best group effort yet.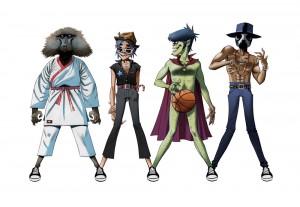 Converse commanded the talents of Gorillaz frontman Damon Albarn, Andre 3000 and LCD Soundsystem's James Murphy for their "3 Artists, 1 Song" campaign, promoting four new specially designed shoes by Jamie Hewlett, our Feb. 23 for the new track, "DoYaThing."
Composed for Converse's "3 Artists, 1 Song" campaign, the track united Albarn with Outkast's Andre 3000 and even resurrected LCD Soundsystem's James Murphy from his musical retirement. The three recorded the funktastic standalone song last fall in Albarn's London studio.
"Music inspired by a shoe is quite a hard thing to get your head around," Albarn said in an interview with Pitchfork. "It's got to be quite abstract."
After hearing the often gorgeous but abstract Gorillaz album "The Fall," the band's most recent and potentially last release, I was admittedly worried what a one-off Gorillaz track would sound like. Albarn's experimental tendencies don't always flatter him, but with three iconic hitmakers together in one recording studio, magical things were bound to happen.
The song opens with a one-take rap by Albarn on behalf of Gorillaz character 2D, the group's lead singer. Funky blips and horns accentuate his babbling, which is reminiscent of his first verses in Gorillaz megahit "Feel Good Inc." Andre 3000 chimes in with a sassy line or two before Albarn finishes his contribution.
Suddenly, Murphy's distinctive indie soul chimes in for the chorus. "Every time we try we get nowhere. Wouldn't it be nice if we were just normal people?" he asks. This off-the-cuff contribution is the highlight of the track, as synths and drums begin to build and glide along with him.
But the most astounding portion of the song comes as Andre 3000 rips rap a new one, challenging even Busta Rhymes' "Look At Me Now" set. Andre's speedy babbling may be nonsense, but it's funky cool nonsense. "Do ya d— thang do ya thangy thang," he commands, and you want to obey.
Murphy has the last word, however, when his gorgeous chorus kicks in again to cap off the song.
The genre-shredding "DoYaThing" could go on another 9 minutes without sounding tired, and the abrupt ending leaves you wanting more. Luckily the three recorded a 12-minute version, featuring more of Andre's ad-libbing and Murphy's LCD Soundsystem-esque sounds that will appear on Gorillaz.com.
Spontaneity was apparently the magic ingredient for this track. The three collaborators came together without a plan and tapped sonic bliss in the process.
But the song isn't the only Gorillaz offering available to fans. After a long creative hiatus, the band's co-creator, Jamie Hewlett, designed four unique Gorillaz kicks for Converse.
The shoes, which also became available on Converse.com Feb. 23, include a high-top shoe with sketches of the animated members of Gorillaz and a low-top colored version. The third shoe is primarily black with a red crest and the Gorillaz mascot, a flying monkey.
However, the most attractive design is a blocky camouflage high-top that borrows from the "Geep" on "Gorillaz," the debut album. Each pair of shoes is $60.
There's even more to this project —– a music video directed and animated by Hewlett and his team, which debuted on Converse.com Feb. 29. Animated Gorillaz band members Murdoc and 2D became three-dimensional as they did only once before in the music video for "Stylo." They interact with the avatars Hewlett created for Andre and Murphy, as 2D unintentionally gives the viewer a tour of the new Gorillaz flat in London. View the video here:  http://www.youtube.com/watch?v=yNeF30RverQ
Gorillaz is nothing without its transformational music and dynamic animated music videos. Luckily for fans, just as it seemed that they were fading away, the group gave retirement the finger in true Gorillaz fashion. The song is fresh, the shoes are fly and the music video offers a small slice of Gorillaz nostalgia. If this is the last we see of the band, it's not a bad way to go out.