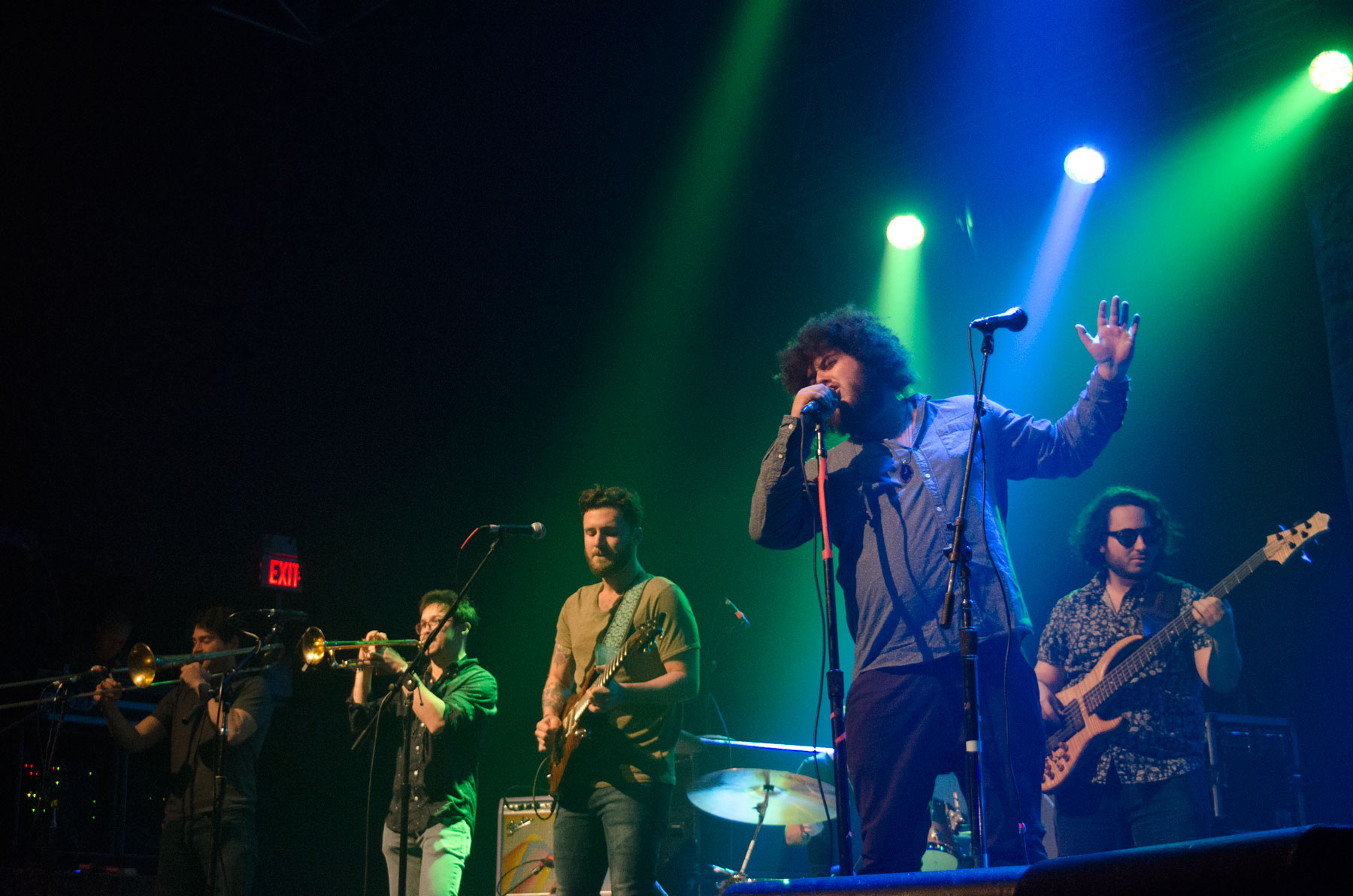 Quality indie funk bands are not so easy to find. Many funk bands out there take the "retro" label literally, often recreating the style of classic funk bands in a purist way. It's hard to be original when branding oneself with such a specific flavor, but I believe it is possible.
Boston seven-piece Ripe tickle this fancy well, giving a modern and catchy spin on funk-pop. Ripe came to Philadelphia Jan. 28, opening for G. Love & Special Sauce at the Electric Factory.
Although they only have two short EPs under their belt, Ripe have already garnered plenty of attention for themselves. Ripe are a band that I can't see anyone not liking — they are just so darn fun. They've got catchy melodies, groovy beats and a horn section. What more could you possibly want from a band?
Ripe came on stage at 8:30 p.m. sharp, to the eagerly awaiting few in the audience who knew them. The 3000-capacity venue was still relatively empty at this point, but people filed in throughout Ripe's set.
Lead singer Robbie Wulfsohn oozed with character: full figured, massive white-boy afro, sunglasses, neck beard and all. His singing abilities blew me away, hitting all sorts of crazy notes with just the right amount of grit. It was a lot of fun watching the band play, because they were clearly having fun onstage.
The second song they played was "Talk to the Moon," off their 2015 EP "Hey Hello," and it might just be my new favorite. I hadn't listened to that song before, but it is real good, let me tell you. Wulfsohn's vocals really shine in this earworm of a song.
As good as Ripe's originals are, their covers are always a lot of fun. I wasn't expecting them to play "Lola," originally by the Kinks, but it was really good. They just put out a music video for their cover of Ellie Goulding's "On My Mind" Jan. 12, so it was a no-brainer that they'd pull that one out. Although I never cared much for the original, I love Ripe's energetic, brass-heavy cover.
Ripe's set was nothing short of a dance party. Every song was high-energy and each member onstage was dancing along — even the horns! I imagine it must be tough to do synchronized moves while playing trombone and trumpet, but they pulled it off expertly. No one was having quite as good of a time as the drunkest old lady in the whole world, who happened to be right in front of me and assistant news editor Walker Alexander. I'm shocked she managed not to hurt herself or Walker in the process; this lady had a two-foot radius cleared around her as she flailed her limbs and banged her head violently to every song.
Tory Geismar killed it on lead guitar, showcasing his talent during guitar solo after guitar solo. A couple other highlights from the night were their song "Goon Squad," with "No Scrubs" by TLC mixed in, as well as "Caralee," with a verse of "Faith" by George Michael thrown in.
After Ripe, I was eager to hear what all the fuss was about for G. Love & Special Sauce. I knew the trio only by name, as they are Philly legends. Apparently, these guys hit it big in the '90s with their R&B-blues tunes.
By the time G. Love & Special Sauce came on, the venue was packed. I expected no less for a hometown show. Thousands of thirty- and forty-somethings who undoubtedly blasted G. Love "back in their day" were clamoring for these guys to start performing. Garrett "G. Love" Dutton addressed the crowd and began to sing the first song.
Their setup was simple: drummer to the right, upright bass player to the left and G. Love in the center with his guitar and harmonica. I don't know what I expected their music to sound like, but I was taken aback nonetheless. They sounded like the Beastie Boys and bluesey beats, embellished with harmonica.
Walker and I bailed before the set was over so we could go talk to the Ripe guys at their merch table in the back. After a certain point, the G. Love & Special Sauce songs all started to sound the same. I just didn't get it. They were products of a different era, I suppose.
Love & Special Sauce performed well, but I thought their music was such a weird blend of genres. It seemed like something out of a parallel universe from a Portlandia sketch to me. I guess that's just the '90s.