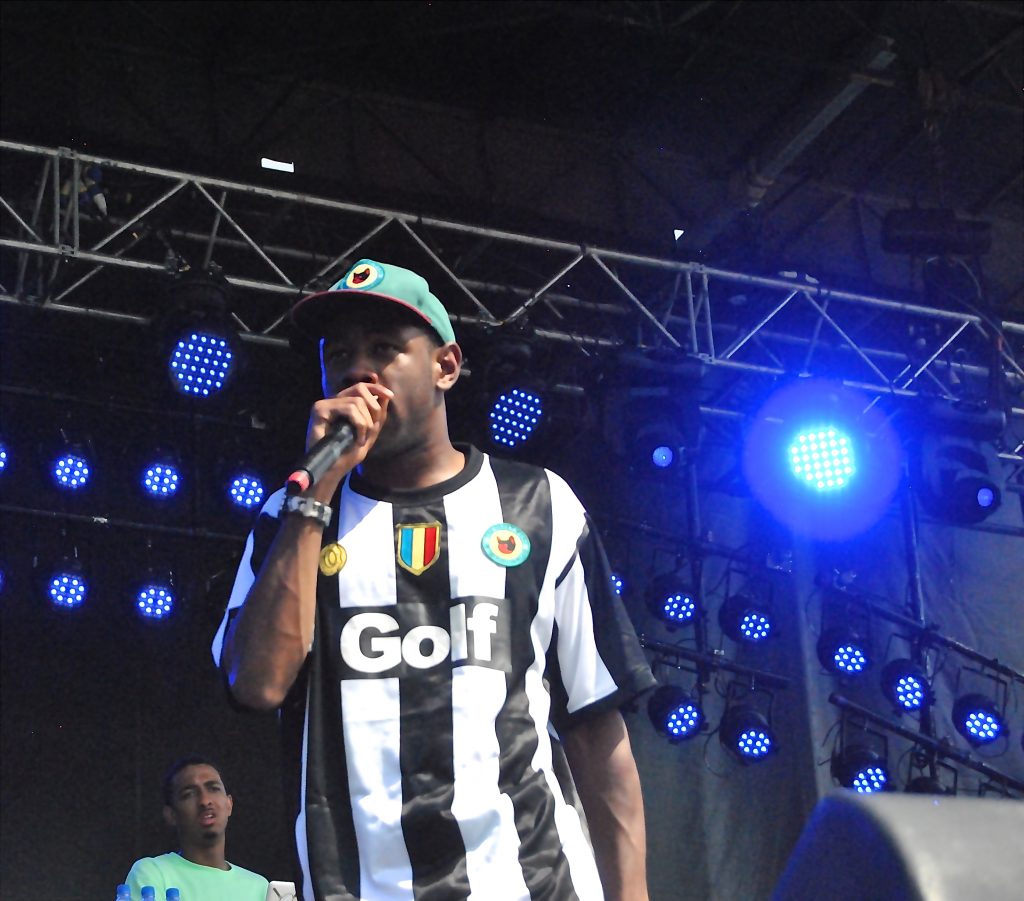 Tyler, the Creator's newest Valentine's Day-themed collection announcement comes as no surprise to fans. In a Feb. 3 Instagram post, Golf Wang announced the capsule, consisting of items from its lookbook as well as a limited edition Valentine's Day tee.
Since its debut lookbook in 2011, Tyler's clothing brand Golf Wang has become a prominent name in streetwear with its bright colors and signature "Golf" logo. In its early days, Golf was affiliated with Tyler and his previous rap group Odd Future Wolf Gang Kill Them All, or simply Odd Future.
The brand's first collection featured graphic t-shirts, skateboard decks and various accessories. It wasn't until 2013 that Golf Wang completely separated from the group and stood as its own fashion brand. Over the years, Golf Wang has collaborated with big names such as Converse, Jeni's Splendid Ice Cream and Levi's.
Golf began as one brick-and-mortar store in Los Angeles, but another store was recently established in New York. With new collections dropping and more on the way, Golf is expected to keep expanding for the foreseeable future.
After releasing their Fall/Winter 2022 lookbook on Oct. 12, Golf has been doing small drops throughout the season. Since Oct. 14, the brand has been consistently releasing new items every two weeks.
Along with the shirt, the capsule includes multiple accessories: two sets of earrings, a mug, ring, necklace and compact mirror. With the exception of one of the pairs or earrings, all of the merchandise included in the capsule has "Golf" somewhere on each item. The first pair of earrings are simple 16 karat gold-plated "Golf" logo studs, while the second pair are 18k gold 3D orange "G's." Similar to the second pair of earrings, the necklace included is a 3D 18k gold multi-colored "Golf" pendant. The final piece of jewelry included in the capsule is an 18k gold-plated ring.
The exclusive t-shirt is white with a pale pink heart and arrow in the center with "Golf" written across the front. Other items in the collection include a "Golf" mug and compact mirror. The mug is ceramic, comes in pink or yellow and has a textured logo and handle. The compact mirror, though in blue instead of pink, has the same design as the exclusive t-shirt. The collection ranges in price, with the cheapest item being $25 and the most expensive being $60.
In addition to the Valentine's Day release, Golf Wang captioned another post "GOLF ESSENTIALS AVAILABLE SATURDAY 2/11 @ 8 AM PST ON GOLFWANG.COM." The photo included pictures of a new beanie, hoodie and puffer jacket. While it isn't clear how much of the lookbook is being released in this drop, each item is expected to come in various colors based on past "essentials" collections.
While many people were excited about the new release and upcoming drops, many were left disappointed with the quality of Golf's recent pieces. Fans pointed out that the "limited edition" t-shirt looked very similar to a previous drop. On a Reddit post sharing the announcement, user Illustrious_Check585 wrote: "this being the valentine's day 2023 tee is really f*****g lazy my god, this same design dropped autumn 2020, could they have seriously not come up w a new design." Others complained about the pricing of Tyler's merch with one commenter writing: "It's essential that you make it at least a lil bit affordable bro."
Regardless of the concerns raised for the brand, Golf's announcements have been met with consistent praise and excitement from consumers. Whether you're a fan of Tyler's music or looking for something comfortable to wear, Golf Wang has something for everybody.