Today everyone and everything is going mobile. From food truck vendors to apps that call a cab for you, services are coming to you, the customer. Always quick to follow a hot trend when they see it, Abby Kessler and Katie Loftus of popular Old City boutique Smak Parlour are taking their hit store on the road with a brand-new fashion truck.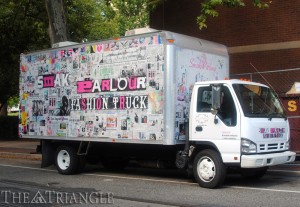 Inspired by Los Angeles' pioneering Le Fashion Truck and with an itch for a second store, Kessler and Loftus revealed their rendition, built in an 18-foot-long truck, on July 4 in front of their shop at 2nd and Market streets. Though the truck was anchored at this location for the first few days, it will soon frequently live in the heart of University City at 40th and Locust streets.
Kessler and Loftus started working on this project over a year and half ago, including six months getting a parking permit for University City and three months outfitting their truck. And outfit it they did: The mobile shop is trimmed with hardwood floors, track lighting, air conditioning, a skylight, and a dressing room! "It's the ultimate in customer service," Kessler said.
Kessler and Loftus, friends since high school and both Drexel alumni, first began selling their merchandise in other boutiques before opening their own in 2005. The best-sellers from the brick-and-mortar — including embellished tees, girly dresses and perfect summer sunnies — can now be found in the truck.
As the final touch, local artist Dave Holley designed the truck's outer wrap. "He nailed it!" Kessler said. "It's a perfect marriage of pop culture and street art. We love the combination of the edgy wrap and our girly, vintage-inspired interior. It feels just like Smak Parlour!"
Though having Smak-on-the-go close by will make tons of Drexel shoppers smile, Kessler and Loftus will also be toting their new store at local festivals and events soon. Follow them on Twitter @SmakParlour to find out when they'll be stopping by!