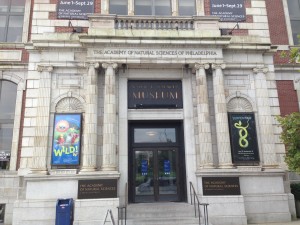 If you are a sucker for all things that shine, shimmer and sparkle (like I am!), then "Glow: Living Lights," the latest exhibit to hit the Academy of Natural Sciences of Drexel University, should be on your to-do list. Focusing on the mesmerizing phenomenon of bioluminescence, the ability of a living organism to produce and emit light, "Glow" will certainly amaze you.
Housed in a dark hall filled with illuminated rocklike displays that mirror the effects of being deep under the ocean, "Glow" teaches its audience how this fascinating trait works through visuals aids, photographs and interactive elements. The first exhibit of its kind, it features every type of organism you can imagine — from mushrooms and coral to sharks, worms and beetles.
Of course, when most think about living things that glow in the dark, fireflies are what first come to mind. Luckily, there was no shortage of information provided about how they use their lights to mate. Other organisms use bioluminescence to protect themselves, to warn others of danger, to find food or to communicate.
My favorite part of the exhibit was the feature on angler fish — shown in Disney Pixar's "Finding Nemo" — a deep-sea creature that has a light held far in front of its face. It is frightening to look at, for sure, but learning about how it glows (and that it stays far away from the Jersey Shore) made it exciting.
It is believed that 90 percent of marine organisms, like the angler fish, have the ability to emit light! Many of the organisms in the exhibit were creatures from the middle ocean. Unfortunately, due to this circumstance, the exhibit was unable to show off any live fish or sea creatures because they can only survive in environments that are nearly impossible to replicate on land. There were plenty of preserved creepy crawlies on hand instead!
When visiting "Glow," the dinoflagellates are one section not to be missed, even if it's a bit of a tongue twister. One of two live organisms on display — the other being glowing scorpions — the dinoflagellates are single-celled organisms that are tough to spot but amazing when seen up close.
Other interactive features included costumes for kids (or grown-up kids!) to play around as fireflies in a meadow or jellyfish running from an angler fish. You can even pretend you have become the bug caught in a jar! But just because there may be some younger viewers attending the exhibit, don't think this is just kid stuff. The information you'll learn at "Glow" is some serious science.
Throughout the exhibit, films and TED talks were playing, featuring researchers who are exploring the habitats of bioluminescent species or using the science behind their distinctive characteristic to help humans. This was one of the most exciting parts of the exhibit. Scientists are using the enzymes that make the living glow possible to find a cure for cancer and to fight terrorism! Want to know how? You'll have to check it out for yourself!
"Glow: Living Lights" opened June 1 and will be running through Sept. 29. The Academy of Natural Sciences is located at 19th Street and Benjamin Franklin Parkway, right across from Logan Square near the Franklin Institute. Entrance to the Academy, including the "Glow" exhibit, is free to all Drexel students with ID. Visit www.ansp.org for hours of operation and more information.