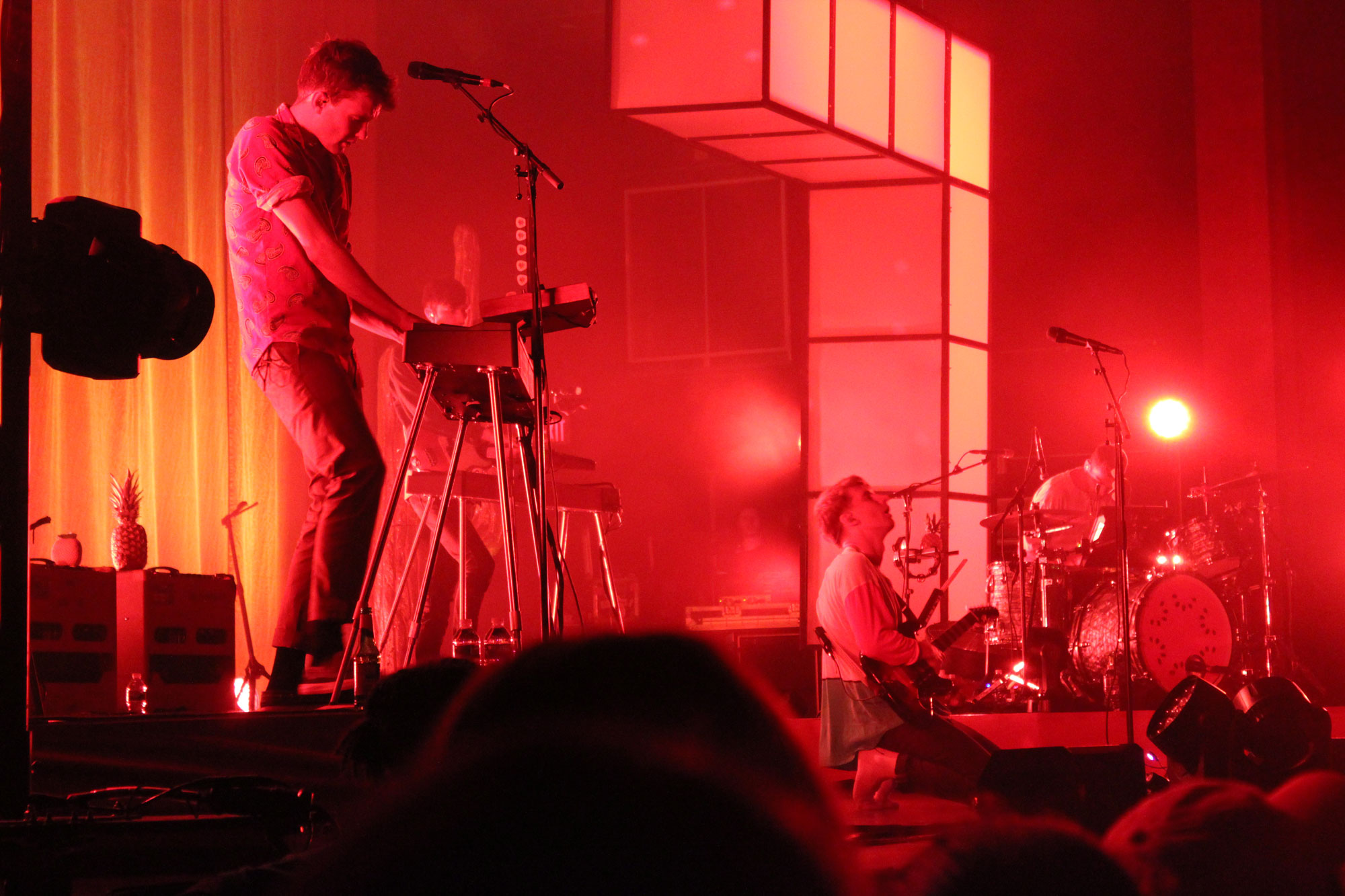 After releasing what I consider to be one of the best indie albums of the year, Glass Animals began their U.S. tour Sept. 24, making their third stop Sept. 26 at the Fillmore in Fishtown. "How To Be a Human Being," the band's follow up to their 2014 LP "ZABA," is a collection of flashy songs packed with emotional tales about relationships, love and drugs.
Pumarosa, the opening act, took the stage promptly as doors opened. Their discography isn't large, but their cryptic style sounded eerie in such a big, nearly empty venue. Their most popular song, "Honey," was a hit perfect for an opener. Repetitive lyrics and a seductive guitar riff were easy to listen to as fans eagerly awaited Glass Animals.
As a set change occurred, it became obvious that Glass Animals was ready to play a crazy show. The stage decor was symmetrical: two giant pillars that looked like upside down tetris pieces on both sides of the stage and a disco ball which hung perfectly from the middle of the stage. Other decorations included a pineapple sitting on an amp and a bass drum painted like a watermelon. Glass Animals came out to "[Premade Sandwiches]," a pre-recorded monologue about waiting in line to fill your body with poison, or buying ripped clothes. As most bands do, Glass Animals started the show with their lead song from "How to Be a Human Being." "Life Itself," was a perfect intro song for the band to gauge audience participation. Lead vocalist Dave Bayley would sing the lyric, "Be like them, lean back and breathe," and most fans seemed to follow those directions, prompting Bayley to do more dance moves.
Glass Animals did a stellar job with their setlist. Each song paired perfectly with the last, featuring a mix of tunes from both albums. The only time multiple "ZABA" songs were played back-to-back was near the end of the set when the band played "Gooey," "Toes" and "Cocoa Hooves" before finishing with two "How To Be A Human Being" songs, which was easily the most exciting part of the entire night. The first song, "Cane Shuga," a sexy, repetitive song about doing cocaine, fed energy into the crowd. Although the song's verses are relatively tame, the band did a great job getting into the song before the progressive chorus that ends the song.
The band finished their set with their catchy song "Pork Soda." Hearing it live was incredible; the instruments were  so much louder and the bridge was extended. It was truly the perfect song to finish a set with. The band did play an encore, which began with a cover of the popular song "Iko Iko," by the Dixie Cups, followed by their first album's most popular song, "Pools."
The band was very interactive, often dancing around with each other. At one point, Bayley was crawling and lying on the stage. Bayley also took his shoes off, declaring the fact to the crowd, who for some reason loved the fact that he was dancing around the stage barefoot. The first half of the song "Gooey" also featured Bayley singing in the crowd, sending most fans in a frenzy to make it on their Snapchat Story. If Glass Animals comes back to Philly, it will be a can't-miss show. Until then, I know every fan will be chanting their favorite lyric. For me, I won't stop singing, "Pineapples are in my head."