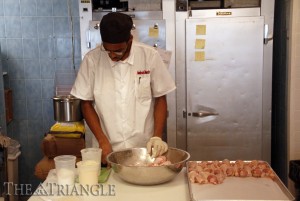 Federal Donuts opened its doors at 7 a.m. Oct. 17 with hot doughnuts, coffee, and fried chicken ready for the masses. Located at 1219 S. 2nd St., Federal Donuts and it's unusual but ingenious menu was brought together by chefs Steven Cook and Michael Solomonov, BODHi Coffee owners Thomas Henneman and Bob Logue, and local food-and-drink expert Felicia D'Ambrosio.
I arrived at Federal Donuts around 10:30 a.m. on opening day to see a quaint little takeout shop and a queue of friendly people who didn't seem to mind the line to order. The red chicken logo is easily seen on the side of the building. Walking in, the kitchen is clearly visible immediately you can see the staff engaged in the creation of fresh pastries, coffee and poultry.
The bar with a single checkout counter stretches around the front end of the kitchen, where patrons can sit and share a meal while enjoying the atmosphere from the kitchen. Federal Donuts only holds a small crowd, and the establishment is mostly for takeout, but there is an area to sit and wait for your order. The bar seats three or four.
I placed my order for a fresh Indian Cinnamon doughnut and coffee, agreeing to wait until 11 a.m., when they started taking orders for chicken.
As I waited, I sipped my coffee and enjoyed a soft, delicious cinnamon doughnut. The dough was so fresh and the cinnamon so perfect that in one bite I could understand the line that now stretched out the door and around the corner outside. After finishing, I admit, I went back inside for a second — but when I got inside I soon learned that they were sold out of doughnuts for the day. This surprised me, as they had a full nine hours to go until the end of the establishment's opening day.  Instead of another doughnut I ordered the chicken, but I learned that I would have to wait another 30 minutes to place an order for lunch.
Seeing how the doughnuts sold out so quickly, I thought I shouldn't risk trying to come back around dinnertime for a chicken meal. So I patiently waited out the extra hour until I could finally place my order for a half of Buttermilk Ranch crispy chicken; an $8 meal, which came with a fresh Appollonia doughnut inside. So rest assured, I would have my second doughnut after all.
As the line grew longer, Michael Solomonov stood outside to greet customers and inform them that they had sold out of doughnuts for the day and only had chicken left. Soon the restaurant announced that they were out of chicken as well and generously offered unserved customers a free meal at a later date.
Federal Donuts' menu is simple yet creative, comprised solely of fresh doughnuts and fried chicken dishes. The doughnuts are subdivided into two options: "fresh," like vanilla lavender, and "fancy," like key lime and Nutella-tehina-pomegranate.
The fried chicken is either crispy or glazed, and options include a Chile-garlic, za'atar, and harissa.
When I finally bit into my buttermilk ranch chicken again, I was blown away. It didn't taste like any fried chicken that I'd had before. The skin was a very light brown color and was not heavy with grease or batter. The fresh doughnut inside complemented the chicken nicely. The dough was soft and soaked up the spices still left on my pallet from the meal. By the time I left, the line of people had received their food, some commenting on how good the chicken was and some ready to return the next morning to try the food that sold out 45 minutes past noon.
When I returned the next week for breakfast one morning, and even a week later, Federal Donuts was still selling out of food by around 1p.m. On their website they have changed their hours from 7 a.m. to 8 p.m. to read "7 a.m. 'till they're gone."
As orders for the fried chicken cannot be made until noon, my recommendation is to plan to go to Federal Donuts for either breakfast or lunch, but don't plan on catching brunch or both in one day. Make a trip to grab a doughnut at 7 a.m. for breakfast and come back another day to order the chicken for lunch — but be sure that you make it to Federal Donuts at some point soon!