It was at the 2012 Firefly Music Festival that I first saw Michael Franti. I wasn't familiar with his music  besides his well-known song "Say Hey," but my friend told me I had to see him. After that show, I knew why.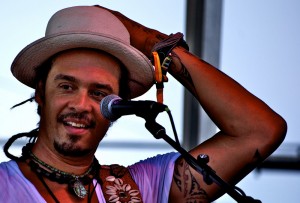 A modern-day Bob Marley, Franti is the definition of an entertainer, advocating love, unity and peace through his catchy reggae music. The end of that concert was like finishing a small dessert; without a doubt, I was craving more.
I spoke to multiple people, who all agreed that Franti was a pleasant surprise as a nonheadlining, "below-the-radar" festival performer.
The story of Franti's life is interesting. To start, he was adopted by a white family and raised in a black community in Oakland, Calif. He developed into a young, angry hip-hop  artist who resented the world's negativity and corrupt politics. At that point, he was on the route to finding his niche in the music world. He channeled his energy away from cynical rap and into positivity to become what he is today — a speaker for social justice.
When Franti visited the Electric Factory Sept. 21, which was coincidently also the International Day of Peace, I was extremely excited to see the contrast between his festival performance and a show at a local venue.
The first difference I noticed was something to be expected, which was that the crowd was much different. The age range of attendees was more diverse because of the nature of the venue. There were also people of all races there to revel in the music.
That is the beautiful thing about Franti — his fans speak for his music. It amalgamates all different ages and kinds of people to form a common bond over his music and his messages.
Despite not having an opener announced, a performer named Michael Bernard Fitzgerald kicked off the show. He was a very low-key performer with an obvious knack for singing and playing the guitar.
Granted, I think the dominating talent onstage was Andrew Ball, who accompanied Fitzgerald on the drums. He played a kick drum turned on its side (essentially a gigantic floor tom) in addition to rattling a shaker in his right hand and using a tambourine with his foot.
The crowd went wild as soon as Franti stepped onstage, many fans shrieking with joy. He opened with "I Don't Wanna Go," and the echo of the crowd sang along.
Genuine happiness radiated from Franti as he performed to an equally joyful crowd. During "The Sound of Sunshine," large green balloons were thrown into the crowd and everyone smiled, jumped and played with the balloons as the show went on.
The always-barefoot Franti joined the crowd to dance with concertgoers. He even ventured up to the second floor of the Electric Factory, stopping to dance with the usher en-route, to boogie with the crowd of older people near the bar.
He became part of the crowd, and it was a humbling experience. Because the stage is raised, it often feels like the performers are on a pedestal, bigger and better than their fans. However, when Franti immersed himself in the crowd, it was like he was saying, "We're all people, here to have a good time."
Franti ended the show with an encore of two of his most well-known songs, "I'm Alive" and "Say Hey," during which he invited kids from the audience to join him onstage.
All in all, if you need a good dose of happiness, a Michael Franti performance is an effective remedy. So until he comes back to Philadelphia, put some headphones in, play "I'm Alive" and keep smiling.