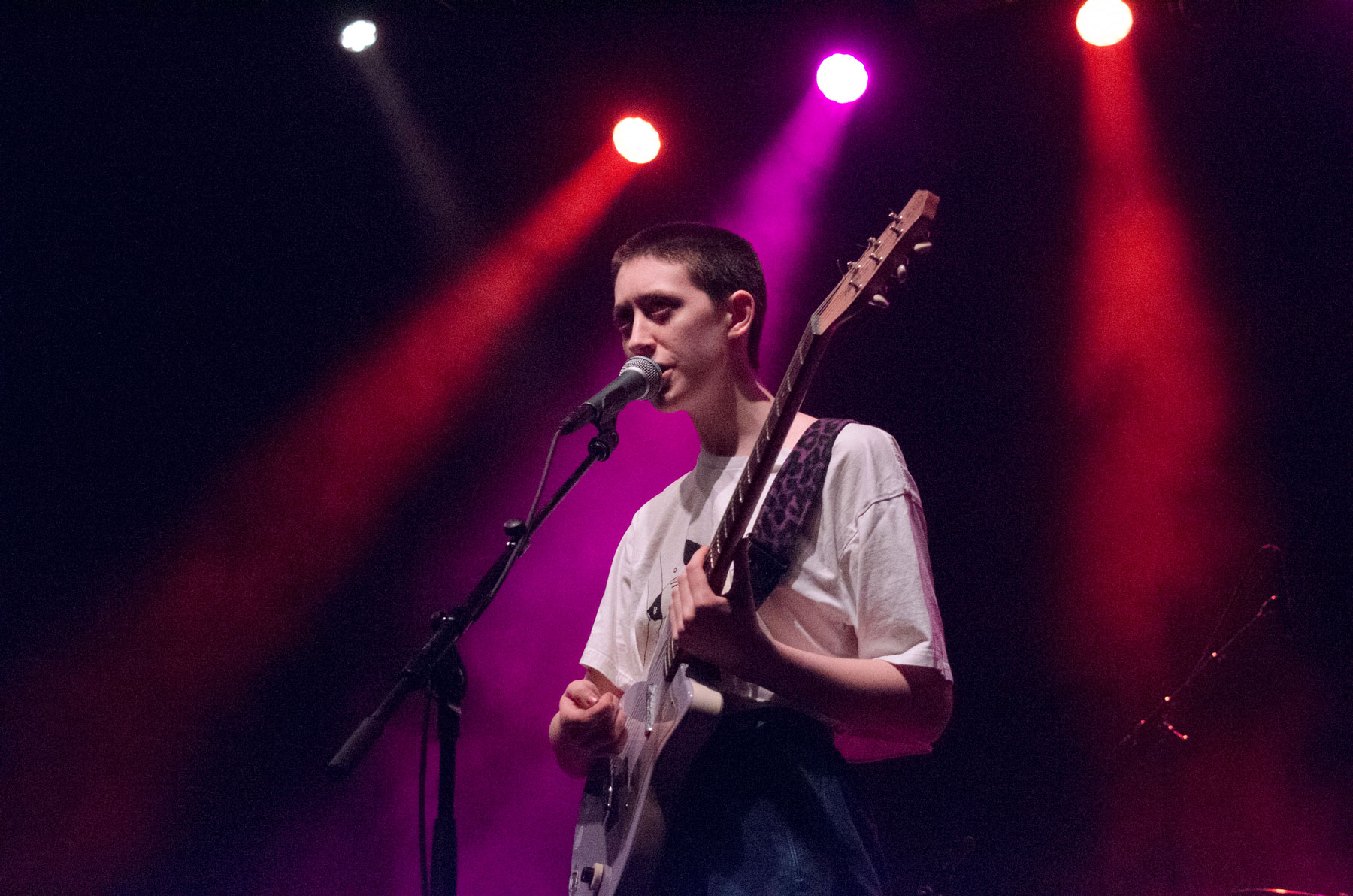 Union Transfer was nearing full capacity as indie band Frankie Cosmos took to the stage in support of Real Estate May 19.
As part of one of the strongest show bills I've seen in 2017, neither band disappointed the sold-out crowd.
Every opportunity to see Frankie Cosmos in action is a pleasure. Greta Kline is one of the best songwriters going nowadays and her band is no slouch either. Drummer Luke Pyenson, keyboardist and vocalist Lauren Martin and bassist Gabrielle Smith were firing on all cylinders as they went through song after song during their seemingly too brief opening set.
A good number of the fans right up in front of the stage seemed solely there for Frankie Cosmos, really saying something considering the headliner. Each song is often short, fleeting almost, yet so engaging. I couldn't help but bobbing along to "On the Lips," "What If" and "If I Had a Dog."
The lady next to me danced to every track like it was a dance club banger. "Buses Splash With Rain" must have sounded like "Clarity" by Zedd to her. Is that what the kids in the dance clubs are listening to these days? Anyways, she, myself and especially The Triangle Editor-in-Chief Billy "The Skids" Bauer were all having a good ol' time watching Frankie Cosmos do their thing.
"Fool" was a song that I have been yearning to hear live for quite some time now and it did not disappoint. "Too Dark," another stand out, nearly brings me to tears every time and I'm not sure I could tell you why. A couple members of Real Estate even came out to help with the vocals on a song, it was delightful.
Frankie Cosmos debuted two new songs, one of which really clicked right from the start. After the strength of their last album "Next Thing," I cannot wait to see what their next release holds.
After the stellar opening set, Real Estate took the stage and launched right into "Saturday." That song is buried at the very end of Real Estate's latest album, "In Mind," and boy is it a winner. The extended piano intro by keyboardist Matt Kallman is beautiful and conjures up a wistful, nostalgic atmosphere before the trademark Real Estate guitars slowly creep in before breaking out into an upbeat road trippin' type of song. I know it's pretty easy to get bogged down while listening to "In Mind" but if you make it all the way to the end, "Saturday" is a real treat.
I had tempered my expectations going into Real Estate's set. On the record, they can be a little too laid back, but live they bring some renewed source of energy, let me tell you. Until I saw Alex Bleeker play live I never realized just how dirty almost all of his basslines are. The man is workin' hard, contributing way more to the rhythm section than I would have guessed after listening to their records.
The guitar section is tight as ever, with Julian Lynch taking over on lead guitar and Martin Courtney as steady as ever. Courtney holds down the fort on vocals and rhythm guitar as Lynch's fingers dance across the fretboard of his big ol' Fender Coronado. It's amazing to see how these two great musicians weave together the dense web of guitar sounds that has become quintessentially Real Estate.
The setlist was chock full of hits both new and old. "Darling" and "Stained Glass" from "In Mind" did not disappoint as well as "Municipality" and "It's Real" from "Days." The sold-out crowd provided some fantastic background vocals for the chorus of "It's Real," arguably the band's best known song. However, for me, it was the drawn out extended jams that cemented this concert as one of my favorites of 2017.
The trio of "Two Arrows," "Beach Comber" and "All the Same" were spectacular, each clocking in well over their album track time. "Beach Comber," the first track from Real Estate's self-titled debut, is my favorite of theirs, with "All the Same" a close second. Hearing both done so well live was cathartic as hell.
In front of a sold-out Union Transfer crowd, Frankie Cosmos delighted with their short and sweet songs while Real Estate reveled in letting some of their tracks really breathe.