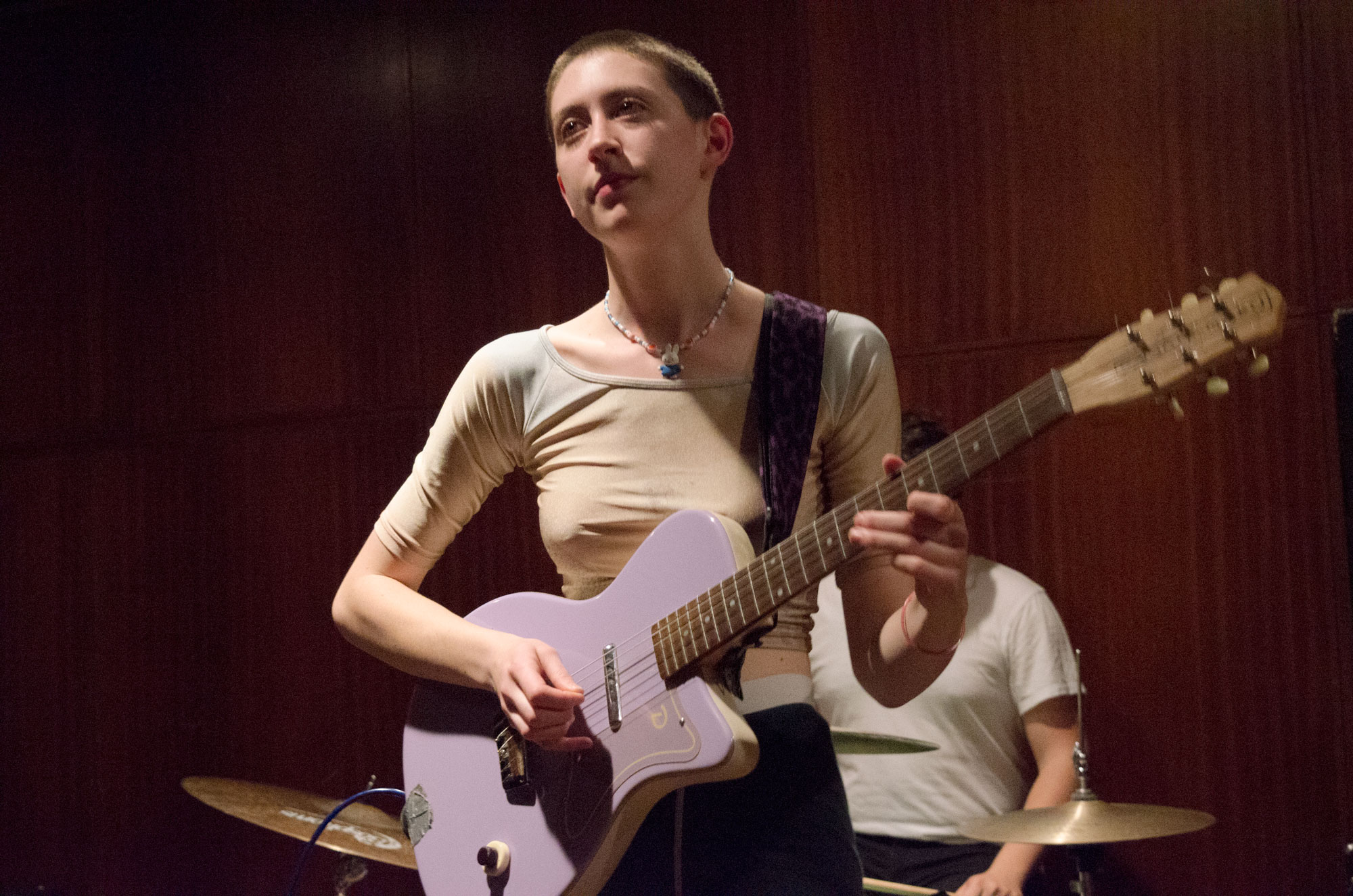 All Saint's Day is a holy day of obligation in the Catholic Church so if my mom asks if I went, I'll only be half lying when I tell her I went to church Nov. 1. It was to see Frankie Cosmos at the beloved First Unitarian Church down on Chestnut Street. Frankie Cosmos was the headlining act of a great triple bill, that also featured Big Thief and Free Cake for Every Creature.
Free Cake for Every Creature were first up on the docket as people filed down in the basement of the Church. Originally the home recordings of singer and guitarist Katie Bennett, Free Cake for Every Creature released their first full-length album "Talking Quietly of Anything with You" this past spring. Bennett's quiet, intimate vocals are a real treat to hear as she races through verse after verse, all full of little details and nuances.
In a live setting she's a bit hard to hear with all the ambient noise but it's fun to try and keep up. Slow songs with sparse arrangements like "First Storm of the Summer" are where Bennett's vocals really shine. You feel like she's almost talking straight to you. Then on more full-fledged pop rock songs like "First Summer in a City" you can see the spark Free Cake for Every Creature has. They are one of the up and coming bands in Philly to keep an eye on. Check them out when you can, who doesn't love free cake.
Brooklyn-based four-piece Big Thief came on stage next and (apologies in advance) but they nearly stole the show. Rocking a haircut just like Eleven from "Stranger Things," front woman Adrianne Lenker has to be one of the best in indie rock today. Her vocal range can seemingly go from Stevie Nicks to Frances Quinlan without breaking a sweat and her guitar playing is also top notch. She'd command your attention with finger picking guitar licks and dense lyrics before the rest of the band would come crashing in.
It was a much different vibe than I would have expected from a band sharing the bill with Frankie Cosmos. But soon enough, Big Thief broke out their softer material and even a little taste of a capella after Lenker's equipment experienced some technical difficulties. The band members of Big Thief have a great chemistry among themselves that you often don't see in a band that released their debut album "Masterpiece" just last spring. I wouldn't be surprised to see big things from Big Thief sooner rather than later.
Leading lady Greta Kline of Frankie Cosmos, also sporting a shaved head, and her three bandmates took the stage as the venue was filling up and also heating up. I didn't think that it could get that hot down there in November and but it got pretty tropical. Kline was feeling the heat too as she actually took off her pants mid-song pretty early on in Frankie Cosmos' set. I remarked to no one in particular, "Forget socks, Frankie Cosmos will knock your pants off!"
It's true though, Frankie Cosmos puts on quite a good show. The band was a perfect fit for an intimate venue like the Church. Kline sings her poetic lyrics and snappy melodies in a beautifully quiet fashion that forced the crowd to almost sing along in a whisper as to not drown out Kline. The band kicked things off with "I'm 20," a stellar track from Frankie Cosmos' stellar album "Next Thing." It's a great song made even better when the bassist and keyboardist whipped out some coordinated dance moves mid-song.
The vibe on the album is poppy and low-key but some of songs' live arrangements give them a little more zip and even have a punky side to them. "Too Dark" and "On the Lips" packed a little extra punch and were refreshing takes on already solid songs.
With songs rarely lasting more than three minutes, the concert moved along swiftly. Kline would scurry from her mic to her amp to peak at the setlist and then relay the song to her bandmates like they were playing whisper down the lane. Unfortunately "Young," "Sappho" and "Fool" never made it down the lane and they were sorely missed by this writer in particular.
Free Cake for Every Creature, Big Thief and Frankie Cosmos provided a great night of music at the First Unitarian Church. Excellent songwriting was plentiful and the musicianship was first rate. It's hard to think of a better way to kick of November than with a great night of music in one of Philly's best venues.