The winter baking bug has bitten me. The chronic condition has affected me every year since middle school, when it's too cold to stay outside all day but a fun activity must still be found.  Yes, there is nothing like a hot chocolate after sledding, skiing or snowboarding, but add a treat to that mix to make it even better!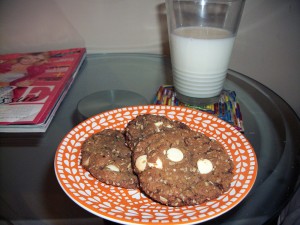 I'm lucky here at Drexel to have my landlord shovel my almost-nonexistent walkway.  However, growing up in the suburbs meant shoveling my driveway with my siblings, followed by an indulgent, but nonetheless well deserved, baking session.
This year I was introduced to speculoos, otherwise known as cookie butter. A creamy, vegan and nut-free spread with a flavor reminiscent of ginger shortbread cookies, with a hint of cinnamon and caramel, and the consistency and color of peanut butter, this ingredient is incredibly versatile: waffle speculoos sandwiches, speculoos in ice cream, smoothies, in oatmeal, on toast, and with pretzels are all excellent options. Yes, I'll shamelessly admit I've tried a lot of these.
One day I want to come up with my own cookie butter recipe, but for this week I decided to bake with it!
Flourless White Chocolate Chip Cookie Butter Oatmeal Cookies
Ingredients:
3/4 cup steel-cut oats
1 cup smooth cookie butter
1 cup light brown sugar
1/2 cup white chocolate baking chips
1 teaspoon vanilla extract
1 teaspoon baking soda
1 egg
A small sliver of butter
1/4 teaspoon cinnamon
Preheat oven to 350°F.
In a mixing bowl, thoroughly mix together the baking soda and sugar. Add the cookie butter and egg and mix until homogenously combined.
Heat a skillet and add a sliver of butter. Put the oats in the skillet and add the cinnamon. Toast until golden brown. Allow the oats to cool and then add them to the cookie butter mixture.  Mix until it's an even spread, then add the white chocolate chips.
Spray a baking sheet with non-stick spray. Make one tablespoon of dough into balls and spread out about two inches apart. Bake for 10 minutes or until golden brown. Allow to cool, and enjoy!