Where does everyone shop for food on campus? A good majority of you would probably say Trader Joe's. Why not? It's close and inexpensive, they have free samples (that work so well on me because nine times out of 10 I buy what they offer), and the food is what I like to call "bomb."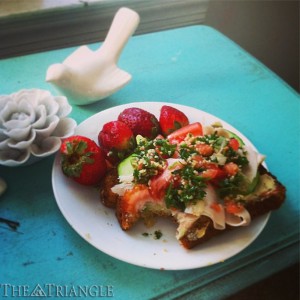 Emily Krantz: The Triangle
Every time I go to Trader Joe's, I have a rule that I have to buy at least one new thing to put some variety in my food cabinet. I also like to play around with the random foods I buy and make different concoctions. I'd like to share with you a delicious simple recipe I came up with by throwing together some of my TJ favorites.
What you'll need:
Tabbouleh (a salad made of chopped parsley, mint, tomato, onion and garlic with olive oil, lemon juice and salt to season): 2 tablespoons
Roasted garlic hummus: 2 tablespoons
Cucumber: 3 slices
Tomato: half of a small plum tomato
Turkey: two slices
Bread: 1 slice of whole grain bread
Now, you might find the instructions to making this open-faced sandwich quite intricate — just kidding.
First, toast your bread. Then spread your hummus on the bread. I typically put 1 tablespoon of the tabbouleh onto the hummus, then put the tomatoes and cucumbers on and put another tablespoon on top. But really, the placement is up to you.
Suggestions: Personally, I'm kosher. So unfortunately, that means no meat-and-cheese combinations. Sometimes I substitute feta cheese for turkey, but I'm sure a medley of both would be delicious!
Nutrition facts
Tabbouleh: 35 calories
Hummus: 60 calories
Bread: 100 calories
Tomato: 9 calories
Cucumber: 2 calories
Turkey: 25 calories
Total: 231 calories (No need to feel guilty!)