There are some words that I'll probably never say correctly. Either they're too hard to pronounce, or more often, I have said the word incorrectly my entire life to the point where it's ingrained in my mind. Sometimes friends will point out that I'm not saying the word right, and I just won't believe them. It has taken multiple searches on YouTube for pronunciations in order to end multiple disputes about words I still can't say correctly.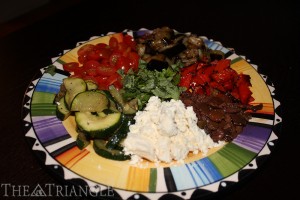 For instance, I once had an argument with a friend about the articulation of the word "quinoa." YouTube ended the dispute, and neither of us ended up being right. In case you were wondering it is pronounced "keen-wah." If you've never had quinoa, you should definitely try it. I like to describe it as a cross between couscous and rice. There are many benefits to quinoa over other whole grains, including less cooking time and a distinct, delicious taste and texture. It also provides nine amino acids and is both gluten and cholesterol free.
Quinoa dishes are great because you can bulk them up and make them your main meal or serve them as a side dish. This Mediterranean recipe is great on its own, and I eat it as a full meal. However, you could add chicken or serve it as a side dish with fish. This recipe is filled with many flavors and incorporates lots of vegetables, allowing  you to serve it as your only side if you so prefer.
Mediterranean quinoa with roasted red peppers, sauteed eggplant and zucchini, olive tapenade, sliced cherry tomatoes with balsamic vinegar, fresh basil, and feta cheese
Servings: 4
Ingredients:
1 ½ cups quinoa
¼ cup Kalamata olive tapenade
½ cup feta
3 tablespoons fresh cut-up basil
2 cups sliced mini cherry tomatoes
Roasted red pepper
1 pepper
2 teaspoons minced garlic
Olive oil
Spray a cooking sheet. Slice the peppers lengthwise into approximately 10 pieces. Lightly coat with olive oil. Evenly distribute the minced garlic onto the sliced peppers. Spread out on pan and cook at 350 until peppers start to bubble and are lightly black. Flip and allow the other side to cook until bubbled as well.
Eggplant and zucchini
1 small eggplant
1 small zucchini
2 teaspoons Greek seasoning
Olive oil
Chop the eggplant into small pieces. Cut the zucchini twice lengthwise intersecting. Then cut the zucchini widthwise to make four relatively small pieces with each cut. Sprinkle Greek seasoning on all the chopped vegetables. Heat olive oil in a pan. Add the eggplant and zucchini to the heat. Cook until eggplant is mushy and zucchini has a little bit of crunch to it. You can taste test for assurance.
Cook the quinoa as directed on your quinoa package. Add the Kalamata olive tapenade and cherry tomatoes to the quinoa, and mix. For a good plate setting, put down the quinoa mixed with some veggies first, then add the feta and top with fresh basil.