It's big-little season in the Panhellenic world! If you don't know what that is, or if it hasn't taken over your social media news feeds, I'll tell you. When you join a sorority, you get paired with an older "sister" who is a mentor, a friend, and is there to help you adjust to the sorority and college life. For a week, or in my sorority's case two weeks, the "littles" have no idea who their "bigs" are. During this time, the bigs spoil their littles, showering them with gifts, crafts and surprises.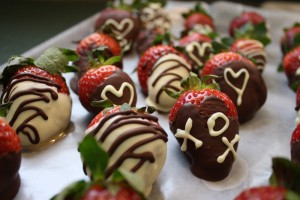 A friend told me she was going to buy her little chocolate-covered strawberries. I told her that would be silly and expensive and that she should just make them herself! They are really easy and fun to make, and homemade ones taste exactly the same as those from the store! Crafting in sororities usually takes the form of puffy paint on wood, but who doesn't like to decorate something edible?
With the holidays around the corner, I suggest practicing some of your favorite chocolate flavor combinations and giving them as gifts!
Dear little, these are for you!
The trick is melting the chocolate perfectly. You can melt it in the microwave, but from my experience, this usually gives the chocolate a burned taste. The best way is to use a double boiler.
You can buy pots specifically for this, or you can try what I do and makeshift one by setting a smaller pot on top of a larger pot. Fill the larger pot with water, and heat it up on a low setting. When it starts to steam, put the chocolate in the smaller pot and place it on top of the larger pot. Make sure the water doesn't hit the bottom of the small pot, as that could burn the chocolate. Add a tablespoon of milk, and stir until it's thoroughly melted.
Hold on to the strawberry stems and twist them in the chocolate so that they're smoothly covered. If you like thicker chocolate on your strawberries, dip them again after the first layer of chocolate has cooled. Apply toppings after you dip the strawberries and while the chocolate is still goopy. Let them sit in the fridge for at least 20 minutes, and then they are ready to decorate with icing.
I used coconut shavings, sprinkles and decorative icing, but be imaginative! Crunch up some graham crackers or your favorite cookies to sprinkle on, or apply speculoos (cookie butter, otherwise known as my guilty pleasure), or maybe even use bacon bits. Play with flavor combinations that best suit your palate!