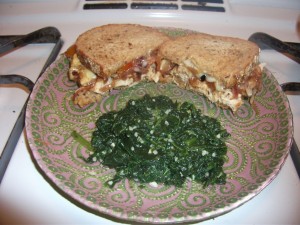 After an extremely long weekend at Firefly Music Festival, I was excited to get back into my kitchen and have a real home-cooked meal. Don't get me wrong; the food at the festival was delicious. I noshed on nachos, wolfed down chicken and waffles, and enjoyed some refreshing ice cream. Not only was the food good, but the weekend was incredible and filled with my best friends and my favorite music. All these wonderful things jam-packed into three days drained all my energy. I came home a zombie, and my body was in need of a nutritious home-cooked meal.
When I saw the brie in my fridge, I had a cheese craving so I worked a recipe around it. That is how I came up with one of my now favorite dishes:
Basil chicken, brie, balsamic caramelized onions and cherry tomatoes, with garlic aioli mustard on multigrain rustica bread, served with lemon parmesan spinach
Ingredients
For chicken:
3 ounces chicken breast
2 teaspoons basil
Dash of olive oil
Dash of red pepper flakes
Salt and pepper to taste
Dash oil on a pan at medium heat. Add the chicken and cook thoroughly. When the chicken is almost done, shred it. When it is white throughout, it is complete. Mix in the basil, pepper flakes, salt and pepper.
For the onions and tomatoes:
¼ small onion
4 cherry tomatoes
3 teaspoons sugar
2 teaspoons balsamic vinegar
Dash of olive oil
Peel the onion and thinly chop lengthwise. The smaller you slice it, the quicker it will cook! Heat the oil in the pan at a moderately high setting. Add the onions, cherry tomatoes and sugar. Halfway through the cooking process, add the balsamic vinegar. Cook until brown. The longer you cook the onions, the more of a caramelized taste you'll get.
For the sandwich:
2 slices multigrain rustica bread
1 ounce brie
½ tablespoon Trader Joe's garlic mustard aioli
Toast the bread with the brie on top of one slice until it melts and the other slice of bread is browned. If you don't have a vertical toaster, you can use an oven. Spread Trader Joe's garlic mustard aioli on the other slice of bread. Put the sandwich together by adding the chicken and the vegetables to the bread and cut in half.
For the spinach:
¼ pound fresh spinach
½ tablespoon minced garlic
1 tablespoon Parmesan cheese
1 slice of lemon
Olive oil
Cut the stems off the spinach and rinse. Heat the pan with a little olive oil and the garlic. Cook for about a minute, and then add the rinsed spinach. Add a dash of water and cover the pan. Cook for about two minutes, squeeze fresh lemon, add the cheese, mix and enjoy.