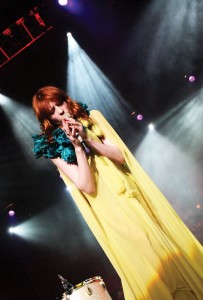 Oftentimes when fans anticipate the release of a new album from a well-respected artist, they are worried sick that the album will sound like it went to pop-music boot camp. Does anyone remember Avril Lavigne?
Rest easy, Florence and the Machine fans, lead vocalist Florence Welch went to no such camp. Florence and the Machine released their sophomore album, "Ceremonials," Oct. 31 with Universal Island Records. In "Ceremonials," they made sure to stay true to their original sound from her debut album, "Lungs," but added 10 times more passion and intensity to her vocals, lyrics and instrumentation. The album includes singles "Shake it Out" and "What the Water Gave Me."
The deluxe edition of "Ceremonials" was released Nov. 1 with additional songs: "Remain Nameless," "Strangeness and Charm," Bedroom Hymns" and a remix of "What the Water Gave Me."
The England-native Welch, known for her fiery red locks, released her debut album "Lungs" July 6, 2009 with Universal Island Records. The indie-rock artist skyrocketed to stardom immediately, holding the No. 2 position on the U.K. Albums Chart for the first five weeks of the album's release, trailing behind "The Essential Michael Jackson" album.
Once "Lungs" proved to be more than successful, it would never be the same for Florence and the Machine, whose songs have been featured on the hit TV series "Gossip Girl" and "The Vampire Diaries." Songs such as "Dog Days Are Over," "I'm Not Calling You a Liar" and "Cosmic Love" are among the most well-known songs from this album.
Now, on to "Ceremonials"; this haunting album is not scant of Welch's harmonious voice, hypnotizing harps and drumming that beats through your entire body. The album begins with "Only if For a Night," where Welch seems to have some sort of epiphany as pianos echo in the background. "And the only solution was to stand and fight, and my body was losing all the satellites. But you came over me like some holy life, and I know the whole story. You're the only light."
In the song "Shake It Out," Welch sings of empowerment and finding the strength to walk away from your past to embrace the future. She sings, "I am done with my graceless heart, so tonight I'm gonna cut it out and then restart. Cause I like to keep my issues strong. It's always darkest before the dawn." Welch's powerful voice makes you want to stand up, hold your ground and face your demons.
In the ballad "What the Water Gave Me," Welch sings, "Lay me down. Let the only sound be the overflow. Pockets full of stones." Your ears will drown with Welch's intense voice and instrumentation as she sings of death by water. The vocal buildup throughout the chorus will send shivers down your spine.
The track "Seven Devils" will leave you spooked with an eerie piano and completely intoxicating melody. This song was very appropriate for its release on Halloween, as Welch chants, "Seven devils all around you, seven devils in your house. See I was dead when I woke up this morning, I'll be dead before the day is done."
All in all, Florence and the Machine delivers in their sophomore album, giving what listeners may mistake for an out-of-body experience. Welch's music is strong yet graceful, all while keeping the wheels turning in their listeners' brains. Bravo.