Deborah Riley Draper, film writer and producer of the fashion documentary "Versailles '73: American Runway Revolution," presented at the URBN Annex April 18 about a major change in the fashion industry that happened overnight. Pat Cleveland, a supermodel and runway legend who walked in the runway show in 1973, joined Draper in a question-and-answer session with the audience after the screening.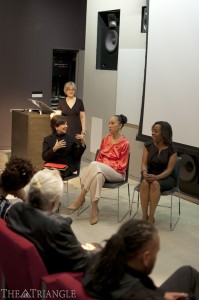 The documentary explores the "fashion faceoff" runway between French and American designers at the Chateau de Versailles that subsequently changed the conception of the fashion industry. This significant runway event gave recognition to African-American models and gave American designers a reputation overseas.
In order to conserve the Palace of Versailles, Eleanor Lambert, fashion publicist and creator of the runway show, decided to present a glamorous runway show to raise money. The documentary demonstrates the step-by-step process Lambert followed in order to create the spectacular fashion show. This includes getting the rights to use the Chateau de Versailles Opera House as the main venue for the show, choosing the French and American designers, choosing the models, conducting rehearsals, and much more.
Designers who were picked to present at the show included French designers Yves Saint Laurent, Pierre Cardin, Emanuel Ungaro, Christian Dior and Hubert de Givenchy. American designers who were picked included Oscar de la Renta, Stephen Burrows, Halston, Bill Blass and Anne Klein.
The American designers used a large number of African-American models to present their clothes. Models included Pat Cleveland, Alva Chinn, China Machado, Bethann Hardison, Barbara Summers, Charlene Dash and Norma Jean Darden, to name a few.
The guest list of 700 included important attendees such as Grace Kelly, Andy Warhol, Liza Minnelli and Josephine Baker.
After the documentary screening, Cleveland and Draper participated in a Q-and-A session with the audience. When explaining her inspiration behind the documentary, Draper said, "I was not familiar with the story three years ago, but I heard a little bit about it at National Public Radio, and I was obsessed with this story." She began naming what attracted her into this story, " I mean, like, fashion, New York, Paris, Pat Cleveland, Halston, Yves Saint Laurent." What lured Draper more into researching this story was how this runway changed the recognition of African-American models and how it provided an international reputation for American designers.
Draper described, "It was actually one of the very first times American designers had staged African-American models as a collective to represent designers." She continued to say how the runway show was "very cross-cultural; the American team was very diverse. I was very attracted to the innovation, the diversity, and the movements that were happening." When Cleveland was asked what her impression of the runway show was, she simply answered that it was "very glamorous."