"Another Earth" is a beautiful, thought-provoking movie from Fox Searchlights that serves as a potent reminder that independent film is alive and well.
Made on a shoe string budget, "Another Earth" feels larger than any cookie-cutter blockbuster you will see this summer.
"We started out with the idea of what it would be like to meet yourself," explained director/writer/ producer/editor/cinematographer Mike Cahill. "How weird would it be if everyone could meet themselves?"
With this idea in mind, Cahill and co-writer/producer/star Brit Marling created a heart-wrenching story of love, loss, guilt and redemption. With over six billion people in the world with the potential to meet themselves, Cahill and Marling needed to choose whose story to tell. They landed on Rhoda's.
The night on which a mirror Earth becomes visible in the sky, Rhoda (Marling) crashes her car into John's, a music professor played by William Mapother, killing his wife and child. Once out of prison four years later, Rhoda attempts to apologize to John — but when she gets to his house, she panics and poses as a cleaning woman. Rhoda continues coming to John's house to clean, and their relationship builds while Rhoda's massive secret hangs consistently overhead.
All of this is happening while the other Earth is now very visible, surely possessing the potential to become a place of salvation for Rhoda, who is constantly wondering if the other Rhoda made the same mistakes as she did.
The key to "Another Earth" and the glue that holds it together is the performance by Marling. Marling rarely misses a beat and controls every scene she is in. She is beautiful and meek, heart-breaking and uplifting. Marling deserves the buzz her performance is generating, and although you may not know her now, you will.
"I kept looking for ways in which Rhoda's grieving could be acted," Marling said. "So that she's not so much of a victim of what happened to her, but she's actively trying to change her situation or make good on what's happened."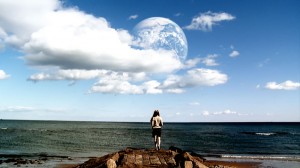 Mike Cahill, director, writer and producer, delivers "Another Earth," which stars William Mapother and Brit Marling. This sci-fi/fantasy film was released in the United States July 22.
While this film may appear to be a sci-fi picture, it is much more tense than intense. There are no explosions or alien attacks, but the scenes between John and Rhoda are so gripping that they become almost too tough to watch. Cahill made certain aesthetic choices so that the film penetrates not only your heart, but your eyes, as well.
"I wanted to approach it in a sense like [cinéma vérité]," said Cahill. "I wanted to employ the syntax of realism which is a bit documentary style with the shaky camera work."
Cahill's directorial choices may not work for everyone, but they were thoughtfully, not cheaply, chosen and add depth to the characters while helping to mount the tension in the film.
Cahill and Marling have created a brainy, indie, sci-fi drama which is unlike any film I've ever seen. Marling herself has a full slate of films coming out, including "Sound of My Voice," which she co-wrote, and "Arbitrage," where she stars alongside Richard Gere and Susan Sarandon. Cahill is currently working on an untitled project about reincarnation. "Another Earth," it seems, is the rocket ship of their careers.
While some of the symbolism and metaphors are blatantly obvious — not to mention, the science probably doesn't check out — "Another Earth" is still an amazing experience.
Go see it, and when the film ends, stay in your seat and watch the credits. You will need time to catch your breath. When you are ready to leave, right before you get in your car, you will look at a patch of empty sky just right of the moon, and you will stare at it for a while and wonder if you may be somewhere out there, looking down on yourself.