Radio 104.5 hosted its third Block Party of the summer season July 13 at The Piazza at Schmidt's in Northern Liberties, featuring Cold War Kids, Capital Cities and opening act Bat Books . Radio 104.5, Philadelphia's alternative radio station, has been hosting the free monthly summer concert series since 2010. The series runs from May through September, and each show draws a very large and unique crowd.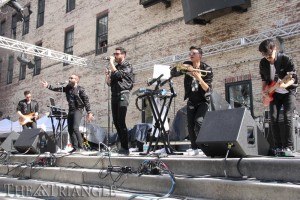 For those who have yet to attend a Radio 104.5 Block Party, allow me to paint the scene for you. The Piazza at Schmidt's is an 80,000-square-foot open-air plaza. Surrounding the plaza are three mixed-use buildings, including a number of artist studios and boutiques, restaurants, apartments, and office spaces. Most of these studios, boutiques and restaurants are open for business during the shows and carry some fascinating spectacles and trinkets. Additionally, vendors and sponsors set up under tents both in the plaza and surrounding it.. Frequently, residents of the surrounding apartments can be seen on their balconies enjoying the show.
The show started at approximately 3:45 p.m., but at this particular show, audience members continually trickled in on the scorching hot Saturday afternoon. Bad Books played an energetic set that set the bar for Capital Cities and Cold War Kids.
Capital Cities was next to play. The band's enthusiastic set was a good match for Bad Books. Donning all black and enough scraggily beards and funny socks to go around, they broke out their horns and passionately belted out the signature line from their single "Safe and Sound." Another great moment of the group's set was the members' synchronized arm wave dance routine.
The final act of the afternoon was Cold War Kids. Though the concert came very close to being rained out, Cold War Kids eventually took the stage and played a masterful closing set that inspired some crowd surfing and some singing, among other things. Along with their beat-up looking guitars and bass, the four members of this indie rock band from sunny Long Beach, Calif., appeared to put up with the humid and rainy East Coast just fine. They played some tracks off their newly released fourth album "Dear Miss Lonelyhearts," which was inspired by the Nathanael West novel "Miss Lonelyhearts." The album marks a slight departure from the band's typical "grit-rock" sound for more spacious, audacious sounds.
The next show in the Block Party series is Aug. 3 and will feature Panic! at the Disco, Alt-J and Walk Off the Earth. After this, the final show of the season will take place Sept. 14, featuring The Airborne Toxic Event, The Unlikely Candidates and American Authors.
For more information on the Radio 104.5 Summer Block Party series, visit www.radio1045.com.