To begin with a disclosure, the location of Brick American Eatery in the more residential neighborhood of Rittenhouse Square swayed my opinion of the restaurant more favorably than had it been placed in an area surrounded by skyscrapers. Located at 1708 Lombard St., the restaurant is nestled in a picturesque neighborhood of suburban and urban qualities, featuring tree-lined streets with tight, cozy rows of brick townhomes. Needless to say, I was entranced by the area. Therefore, the walk to and from the restaurant seemed to muddle my critical eye — or rather, my palette. Upon reflection, the menu was impressive, offering innovative spins on classic (and sometimes boring) American cuisine. However, the food itself fell short.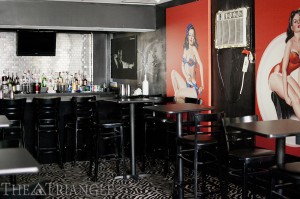 I had never heard of this place — which is surprising because I spend most of my free time searching for new restaurants to try — until my friend discovered a Groupon deal for the restaurant (see, I'm not alone in my food-related research). Because we are both heavy eaters, my friend and I concentrate our dining endeavors on restaurants with notably large portions, with Yelp being our "fact checker." In this way, the Groupon voucher became our golden ticket to Willy Wonka's chocolate factory … of food. I will admit it here and now that we could not finish everything. While this may seem normal for a regular human being, she and I pride ourselves in being members of the "Clean Plate Club."
Granted, we ordered a considerable amount of food that would challenge the greatest CPCers. To start, we split the duck nachos and short rib mac and cheese. I personally preferred the duck nachos because the dish had a protein rarely enjoyed in my diet, and it was topped off nicely with an avocado mousse (essentially guacamole), melted manchego cheese and a Mexican crema. What's more is that the chips unexpectedly matched the iconic ones typically reserved to Mexican restaurants. In terms of the mac and cheese, I was definitely underwhelmed. My dining partner did not have any complaints, but I just found it to be too similar to what I could make at home. I must give the restaurant credit, however, for the interesting array of small plates, including the ones we tasted, as well as an apparent Asian trend with vegetable lo mein and tuna wontons.
Nevertheless, I was completely satisfied with the entree. My friend and I both ordered the lamb burger, though there were plenty of other options to choose from, including a variety of salads, pork tenderloin with peaches and strawberries, homemade ravioli in a pesto cream sauce, cornbread chicken, and crab cakes. Even so, I cannot resist a solid lamb burger. Although I have tried better (see my review of Resurrection Ale House), Brick American Eatery offered a satisfactory version with a spicy onion jam, manchego cheese and Worcestershire sauce.
By this point in the meal, we couldn't take much more, which worked in our favor because we had nearly reached the value of our Groupon. I should note that the prices are not reasonable for a college student on a budget. To be honest, I'll treat myself to an expensive meal once in a while if the food is worth it; but in this case, it is not worth the price unless you have a deal.