In a city fast becoming recognizable for its array of restaurants with any number of options and substitutions for even the most celiac-prone lactose intolerant vegan, Fare does a spectacular job making adult-aged children like myself sit down and eat their vegetables with a smile and giving patrons a satisfying sense of actually being full without wanting to unbutton one's belt and take a nap. Most importantly, Fare does this by sourcing all ingredients for literally all of its dishes from locations scattered around Greater Philadelphia.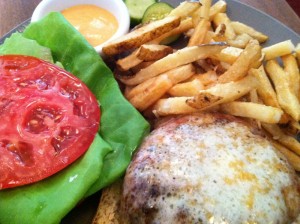 Its dinner menu doesn't reinvent the wheel. What you see is what you get: New American cuisine celebrating New American cuisine, though chef Tim Bellew simply doesn't have to do so in order to make the point that subtle and bold flavors juxtaposed with one another from locally sourced ingredients prepared freshly can, for very affordable prices, bring out the gourmand in all of us.
Appetizers include vegetarian onion soup, made with a tomato broth, and cheddar accompanied by a fennel sandwich. There's also the requisite elegant 21st century salads, such as a kale salad of crispy roaster lacinato kale with a tangy bacon dressing and a fried egg, which itself debunks the notion that things like kale or watercress salad are only ever placed on menus so people can order food on a first date and not instantly reveal secret cravings for 3 a.m. Wawa hoagies. There are intentionally rustic flatbreads. The vegetarian flatbread is garnished with tomato, eggplant, capers, olive and feta. Though it sounds like a culinary yawn when browsing the menu, the real thing in front of you is fresh, aromatic and soft enough that you won't be able to imagine why anyone would ever bake bread any other way.
Fare's intentional simplicity is charming and immediately puts diners at ease. A complimentary sampling of flatbread with hummus and olives puts a great twist on the idea of serving seemingly arbitrary dinner rolls. The hummus' subtle tangy flavor plays off the sincerely juicy texture and flavor of the olives. Such a simple idea can be so innovative with Fare's flawless execution.
Because it's the middle of summer in Philadelphia, indulge in the chilled tomato gazpacho, a beautiful dish crowned with a truffled jumbo crab salad, basil, oil and chives. But with all the nouveau flavors, all you'll be able to think of is just how brilliantly fresh the tomato tastes.
For a main course, try the Grass-Fed Beef Burger. This is dodgy, controversial territory, but just trust in a burger cooked medium-well. Anything longer than that will likely cause the burger to crumble. The brilliant, classic combination of the 8 oz. natural beef, melted Gruyere cheese, lettuce and tomato will persuade you to eat the thing whole, in one bite, as opposed to going through the typical tomato and lettuce removal ritual of contemporary burger-eating.