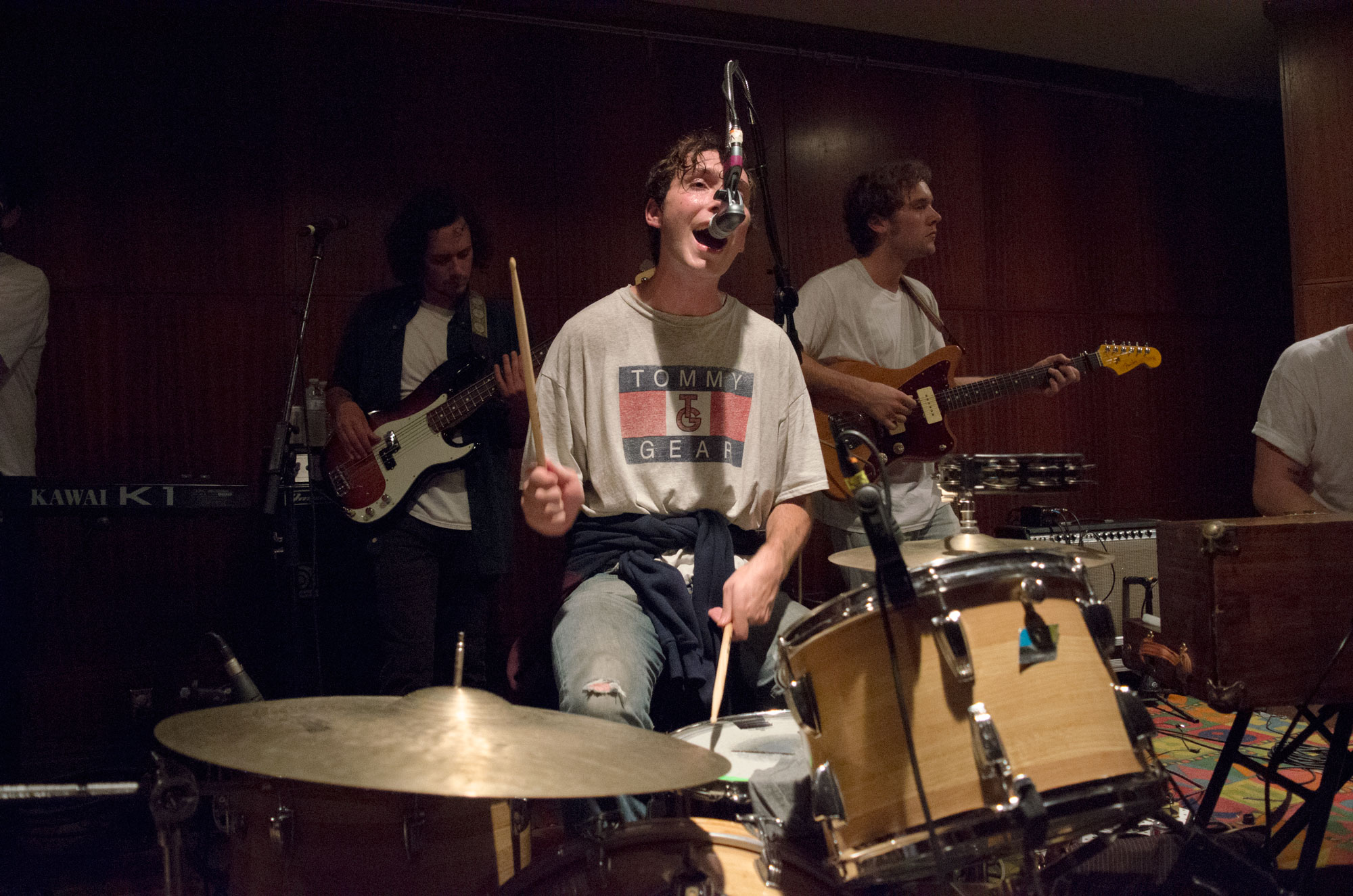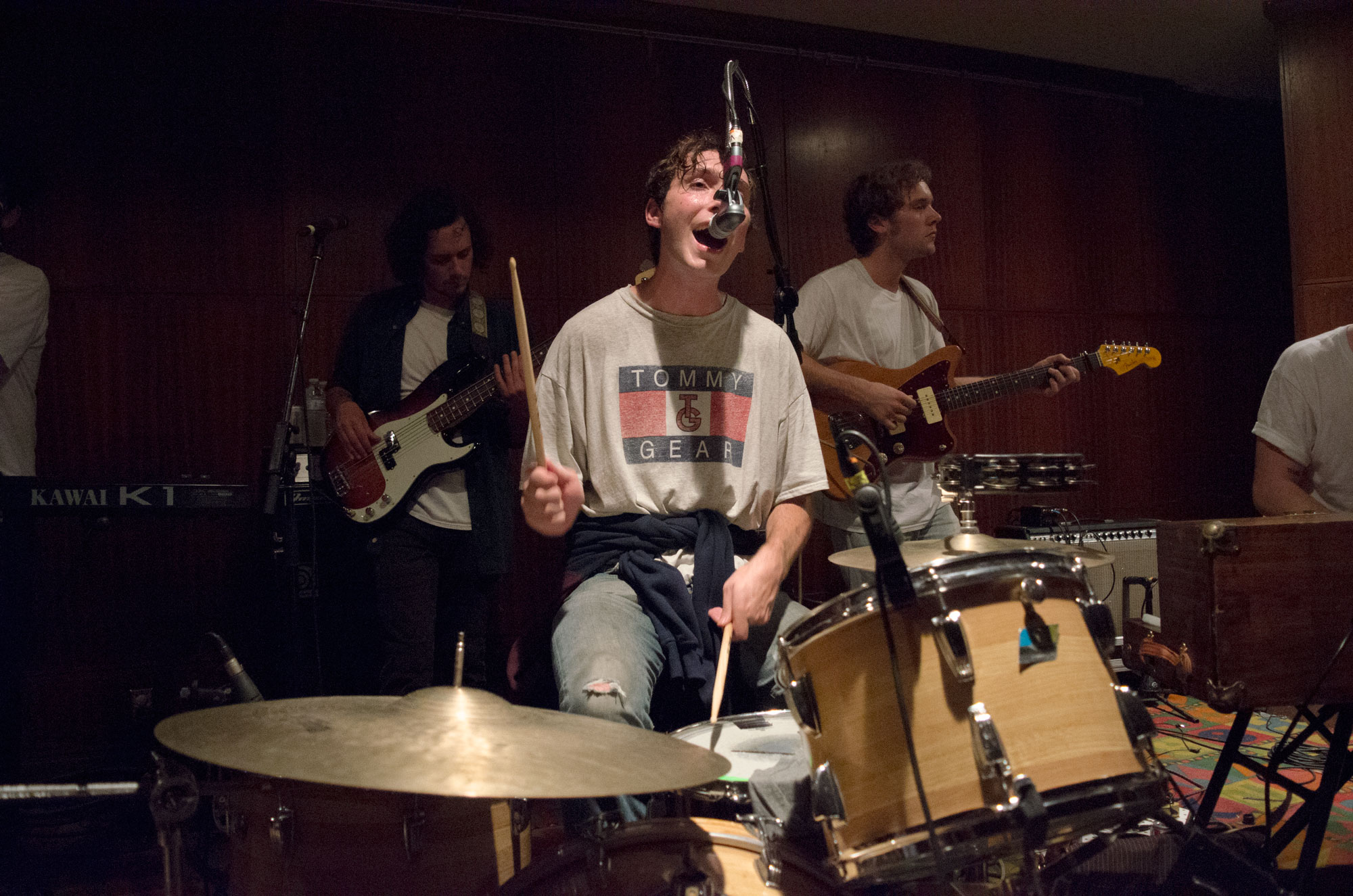 It seems a bit odd that I only know the First Unitarian Church by its basement. A space that is well suited for church bingo nights is instead now a go-to destination for music fans from Philadelphia and beyond. Their place has a great vibe, with soft lighting, wood paneled walls and a low-rise stage covered by a colorful carpet straight out of a children's daycare facility. It is an amazing spot to see any band. When it's sold-out and 200 or so folks are all packed in, singing along, dancing, having a good time, something really special can come about. And that is just what happened Oct. 7 when Whitney played the First Unitarian Church.
Friday is always a great night for a concert and with a lineup like the one Oct. 7, you missed out if you came late as local band PALMAS kicked things off at about 8:30 p.m.. PALMAS plays a nice brand of surf-rock that conjures up some semblance of being like a modern-day Beach Boys. Lead singer Kurt Cain-Walther really anchors the group with his charismatic delivery. The band was dressed to the nines as they took the stage and played tracks both old and new. "Flowers" is the guys' latest single and it sounds incredible live. PALMAS has a way of bringing a little extra energy and pizazz to their live performance that really brings them up another level. If you missed them Oct. 7 your next chance to see them in Philly is Nov. 9 at Boot and Saddle. Catch 'em if you can!
Hoops was the next band to take the stage as the venue really began to fill up and fans starting knocking back whatever they BYOB-ed. Hailing all the way from Indiana, Hoops played a tremendous set, composed of lo-fi jams that feature some sweet guitar riffs from lead guitarist Drew Auscherman. Having never heard a single song by them before the show, I couldn't stop dancing, bobbing, jamming, everything. Their tracks made me feel some kind of way let me tell you. Throw on "La La Land" or "Cool 2" if you get a chance.
Finally it was time for the main event, Chicago Americana indie country rockers, Whitney. Started by ex-Smith Westerns guitarist and drummer, Max Kakacek and Julien Ehrlich respectively, Whitney released their debut "Light Upon the Lake" this past June and have been touring ever since. It's chock full of catchy as heck tunes featuring melancholy lyrics, nifty guitar hooks and some really great melodies. I started listening to Whitney to prepare for their set at Governors Ball. Though their set was cancelled due to weather, I used the downtime to read anything and everything I could about this group that had just dropped one of the best albums of the year. I came across a quote from Ehrlich that really stuck with me: "If you write some music that people begin to show interest in, just work as hard as you can to tour it and be good. Just be good live." "Be good live" turned out to be an understatement. Whitney was incredible.
After setting up their instruments and gear, Whitney launched into "Dave's Song." As soon as Ehrlich started singing, the crowd joined in and something special was underway. When the song was over, the applause was deafening, unlike anything I'd ever heard at a concert before. And it didn't let up for almost a minute. It was like the crowd, myself included, experienced some sort of religious awakening. But I imagine that is better suited for the upstairs portion of the venue.
With Whitney, everything somehow manages to sound even better live. The understated drums on the album have a little more punch as Ehrlich breaks beats left and right and Kakacek dazzles on his Fender Mustang, even with a guitar slide on one finger. I'd call out each and every song if I could; Whitney doesn't have that many songs but by god they are all hits let me tell you. "Polly" nearly had Entertainment Editor Matt "Babyface" Coakley in tears, especially when the trumpet of Will Miller kicks in after the first verse. Every girl was probably feeling a little jealous after that song when Ehrlich hopped up from behind his drums to share a kiss with bassist Josiah Marshall. "Red Moon" was also killer to hear live. Miller's horn drives the jazzy instrumental, but Ehrlich, Kakacek and the rest of the band each take a turn showing their prowess. Whitney plays so tight, a benefit of touring pretty much non-stop since "Light Upon The Lake" was released.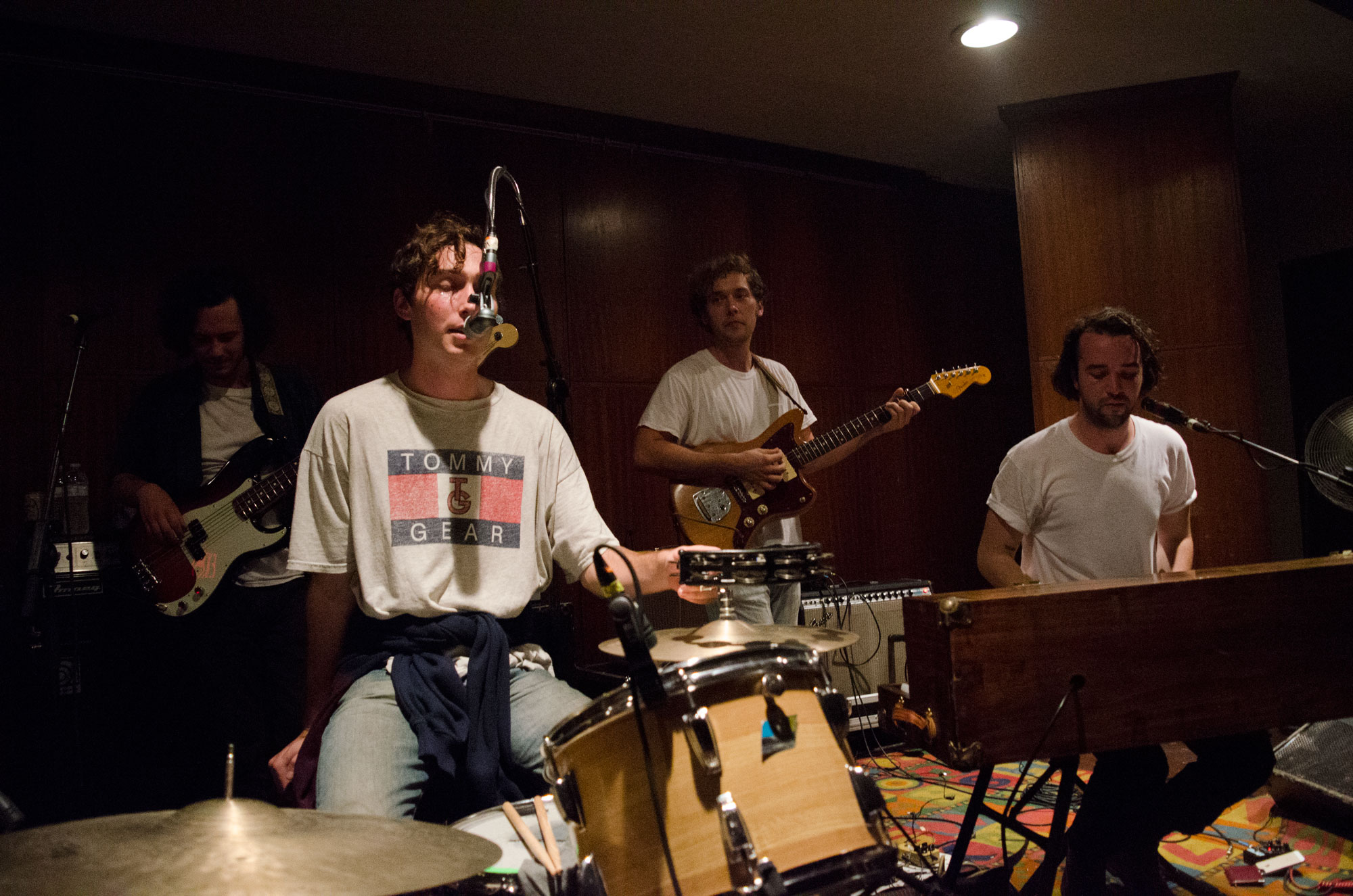 Somewhere along the way Ehrlich stopped to thank the crowd and say how the First Unitarian is one of "the top three" venues in the country. And that the Philly crowd is only outmatched by the folks back in the band's hometown of Chicago. More often than not, the only crowd interaction you get from a band is them saying "(city name here)" to get some easy applause. But you could tell that Ehrlich and the band really meant it. The crowd continued to love them back throughout the night. Every song turned into a sing-along, people were dancing, I was air instrumenting in the front row like some kind of lunatic — it was a once in a lifetime experience.
The encore somehow managed to take things to another level. Whitney started off with the eponymous track from their album. The arrangement is sparse at first, some light guitar over Ehrlich (and the crowd's singing) then it builds into something truly beautiful. With 200 people and Ehrlich asking "Will life get ahead of me?" goose bumps abounded. At the song's conclusion Ehrlich remarked that that performance of the song "felt special" and I doubt there was anyone who would disagree. Keyboardist Malcolm Brown played with a Ben Folds-like enthusiasm during Whitney's cover of 1972 jammy jam "Magnet" by NRBQ. It was one of, if not the, best cover I've ever seen. There was such a pure energy about the song as everyone in the band cut loose and people started dancing to a song they probably never heard before.
They closed with "No Woman," to me the most epic song on the album. Kakacek plays a silky smooth guitar line with wizard like dexterity as Ehrlich laments a lost relationship. The tempo really picks up after Ehrlich takes a mid-song break to thank the crowd and Kakacek and Miller begin this great little back and forth, exchanging riffs. Then everyone stops and the sold-out First Unitarian crowd joins in with Ehrlich for one last sing-along singing, "I left drinking on the city train, to spend some time on the road." Whitney left the stage and Chance the Rapper's "All Night" came on over the speakers causing a little dance party to ensue in front of the stage. I couldn't think of a better way to end the night.
It was an honor and a pleasure to be able to spend some time with Whitney while they were on the road. I'm not sure if I have ever been a part of any concert like the one in that basement. Surely it will be the last time Whitney ever comes through Philly playing at a venue that small. With an album as good as "Light Upon The Lake" they'll be selling out Union Transfer or something of the like on their next tour. For the 200 or so people who were lucky enough to be there, it was an experience unlike any other. One thing is for sure, no matter where Whitney goes, we'll follow.