"My standup routine is obviously not kid-friendly," comedian Dan Ahdoot said before his opening set at Drexel's Campus Activity Board hosted Fall Comedy Show Nov. 12, which took place in the Main Auditorium.
Ahdoot sat behind a teacher's desk in an empty classroom in the Main Building as I interviewed him, his laughter echoing off the walls. Sitting adjacent to him in a student desk was fellow headliner Sheng Wang, who laughed as Dan often jokingly answered questions.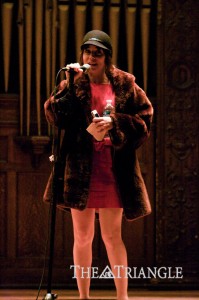 Ahdoot spoke of his emergence in the world of stand-up and his ventures in acting, most recently involving a role on Disney XD's Kickin' It.
"People who watch it are either one of three things: a kid, an adult with a young relative or a coach at Penn State," he joked, Wang erupting in the background.
He went on to describe his experience with more seasoned comedians, one such being Lewis Black.
Drexel's Fall Comedy Show took place Nov. 12 in the Main Auditorium. Acts included comedians Dan Adhoot, Sheng Wang, Natasha Leggero and Mo Mandel.
"It's always really interesting to see their pre-show process. Black was super calm backstage, getting into almost a Zen state before going on, and then being crazy and loud and pissed off," he said.
"I opened for Patton Oswalt, and his thing is that he reads comic books backstage, which I thought was so cool. My thing is that I read recipes online," Ahdoot said, and at first I didn't believe him.
He doesn't use the recipes or make a mental note of them for later. They're just part of his pre-show ritual.
"I'll be backstage reading recipes, and then three minutes later I'll be making d— jokes," he said.
We then diverged into a sidebar about food television, during which he told me of his dislike of "Man vs. Food."
"I don't like [that show] because I think he's going to die, and we'll all be responsible for his death," he joked, Wang giggling in the background. "I think it's the longest-running snuff film ever."
Ahdoot then rushed off to the auditorium to perform his set, and although I didn't watch it, I heard laughter echoing down the hallways. He was surely a huge hit.
Following Ahdoot's exit, I interviewed a noticeably calmer Wang, who talked about his background as a Taiwanese-American comedian from Houston. He spoke about where he finds humor in his life and who he looks up to in comedy, answering each question seriously and straightforwardly.
If you saw him on stage, you'd hardly know he was so reserved. Finished with my interviews, I entered the show halfway through Wang's set, in the middle of a tirade about white people.
"I'm the son of immigrants, and when we moved to Texas I didn't really fit in. So I just wanted to do what the white people did — I wanted to copy them," he started, the crowd faintly laughing. "I wanted to listen to black music, I wanted to date Asian chicks, I wanted to get tattoos in Chinese — I just wanted to be white."
The crowd was hysterical at this point as Wang finally thanked them and exited the stage. Next up was a petite little brunette in a faux fur coat and a Civil War-era cap named Natasha Leggero. She stepped onto the stage, took the mic in her hand and hung her coat on the mic stand.
Turning around, she said, "Where the hell am I? It looks like The Shining in here," addressing the organ.
During the first 5 minutes of her set, she made pop references to Justin Bieber and Miley Cyrus, clearly not yet sure of her audience.
"Ke$ha's like if a venereal disease could sing," she joked, getting half the crowd on her side.
Someone in the front row scoffed at the mention of Ke$ha, and a perceptive Natasha noticed.
"What kind of music do you like?" she questioned.
"Country," the student responded, and she repeated after him in a southern accent.
"The whole music industry is failing, no one's making any money except in country music, and I think that's because the people who listen to it don't know how to use the Internet."
From here she went into a monologue satirizing how rappers steal hooks from pre-existing songs. Much of this part of the set was R-rated, but it was definitely appreciated by the audience. Later in the set she grabbed a student from the audience who could beat-box, and ad-libbed her own rap from the perspective of an oil tycoon with "real money, not rapper money."
She pleased the crowd with a variety of impressions, musical numbers and callouts to students in the crowd. She even antagonized one student who interrupted her during her set. Ultimately, she was a huge hit and the perfect lead-in to comedian Mo Mandel.
"Give it up for Natasha!" he said when he stepped on stage. "Give it up for that little pretentious riding hat she was wearing for no [expletive]ing reason."
Almost immediately he had the crowd, taking a turn from popular culture to political issues such as the Penn State scandal.
"If I went to any other school in Pennsylvania besides Penn State, my slogan would be, 'Come to Drexel, we don't [expletive] kids,'" he said to an overwhelming response.
Mo was decidedly more vulgar and honest than the other comedians, and this was well received by the voracious student audience. His high-energy delivery continued throughout his 45-minute set, after which he received overwhelming cheers and applause. Mo and Natasha have long been friends and peers within the comedy circuit, and I got a chance to get to know them a little better before their sets.
The two have both been frequently featured on the late-night panel-style show "Chelsea Lately" and costarred in the now-canceled NBC sitcom "Free Agents."
"[Free Agents] was very fun," Natasha said. "In a lot of ways it was a dream job, and I wish it would have lasted a little longer."
"Working with the cast, especially Natasha, was great," Mandel added. "By the end of the show, after they stopped airing episodes, they really started to led us ad-lib, which was extremely fun."
Leggero is now working on Chelsea Handler's upcoming sitcom, "Are You There Vodka, it's me Chelsea."
"Working with Chelsea is fun, especially in a live crowd setting. She's very open to whatever people want to add, and that's a really important part of our show. It's really exciting," Leggero said.
Additionally, Mandel and Leggero will soon be touring to promote their most recent comedy albums. All four comedians did album signings outside of the auditorium after the show. Many were talking about their favorite jokes, and overall the event was definitely a comedic success.