The pub-dwelling Irishman in me is pleased. Fado Irish Pub and Restaurant, located at 1500 Locust St., fulfills the standards expected of such an establishment.
To start, customers are granted the privilege of self-seating, though, in no seat will a customer be shortchanged. Fado's layout ensures that no visitors will be confined to a dark, musty table in the corner with cobwebs and associated inhabitants as their only company. Granted, the entire restaurant was cast in the obscured lighting of a seedy dive bar, and while this would be cause for concern in some (or most) cases, it contributed to the genuineness of the joint. So, whether perched at the deep mahogany bar or cozied up in a booth, every part of the restaurant offers a memorable experience.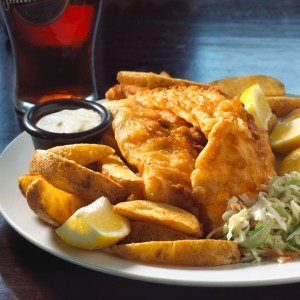 Fado Irish Pub and Restaurant is located on 1500 Locust Street and appeals to the family and party scenes alike. Notable items on the menu include fish and chips, "Boxty straws" and a brownie sundae with Guinness ice cream.
Really, it's what you make of it. The rowdier of us can gather around the bar for game night — rugby and soccer are pub favorites — and enjoy a 20-ounce imperial pint of a selection of quality Irish and European draft beers. On the other hand, those looking for a more intimate or family-friendly time are no less satisfied, having their choice of small and large tables and booths surrounded by fireplaces and antique Irish handiwork. Once settled in, patrons of all sorts must then make their primary decision of the night: what to eat.
Although Fado's menu caters to a variety of palettes for both adults and children, it still has its idiosyncrasies. For one, it serves up authentic Irish fare, notably fish and chips, shepherd's pie and bangers and mash — for those of you who don't know (since I've never heard of it myself), this dish is Irish pork sausages on colcannon, a mixture of mashed potatoes and cabbage, with gravy. There was also what is known as "poor house bread," more commonly called boxty.
In fact, Fado was the first of its kind to serve this dish in America. Fado keeps its recipe simple with just potatoes and seasonings but still manages to make it contemporary. On that note, it appears on the menu in several forms, such as a quesadilla wrapping (instead of a tortilla) and fries, and it even takes the main stage in traditional entrees with fillings like steak, chicken, shrimp and corned beef (an Irish staple). I was able to try the fries version, or what they called "boxty straws." They were denser than typical fries and tasted more like French toast than potatoes. All in all, it was a nice change, and my eating partner couldn't help but eat more of my boxty straws than his regular fries.
Along with my boxty straws came a chicken cheesesteak, which held its ground among the ranks of the Philly cheesesteak, smothered in mushrooms, caramelized onions and American cheese, and finished with a horseradish mayo that was so tasty that I forgot my distaste for mayonnaise.
Nevertheless, my companion's Guinness Barbecue Chicken Sandwich stole the show. Admittedly, it was the Guinness; I'm already a fan of barbecue sauce, but the added flavor of the beer took it to the next level. Actually, Guinness seemed to be the featured beer of the night for us, as we ended the meal with a black and tan brownie and Guinness ice cream. A warm brownie sundae is hard to top, unless it's with Guinness ice cream. The whole dish was decadently rich and the perfect way to wrap up an already indulgent meal.
Although I've never been to Ireland, Fado matched my expectations of it. The food is comforting and hearty, the interior is warm and inviting, and the ambience is appropriate for any occasion. Whether it's a night out with a few buddies or a family dinner in the city, Fado will provide a pleasant, assuredly Irish experience.