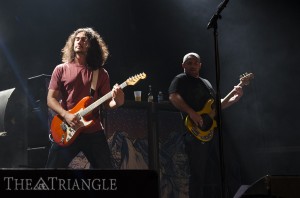 If you were not fortunate enough to have a valentine this year, the Trocadero was the place to be the night of Feb. 14. There was lots of love at the Troc as The Expendables graced the stage with Stick Figure, Seedless and Bong Hits for Jesus. Each band has a unique sound, but they all fall into the reggae-rock genre of music.
Bong Hits for Jesus began the show with some funky tunes. They were a great opener for Seedless, a California reggae-rock band. The crowd really started to gather on the dance floor when Seedless took the stage. Stick Figure made an unforgettable entrance as smoke poured off the stage, filling the venue. The smoke machines didn't seem to stop creating a stereotypically hot-boxed setting for this stoner band. Somehow, some way, the drummer was able to play through all the haze. Joining them on the stage was the band's adorable dog Coco! She found her place center stage, napping in front of the drum set. After a short break to change sets onstage, the Expendables finally came out to play.
The Expendables are a band of four musicians who have been making music together since 1997. The group met during high school in Santa Cruz, Calif. Many of the members played in multiple bands until they officially became a group. Ryan DeMars plays the bass, Raul Bianchi plays keyboard and is the lead guitarist, Adam Patterson is the drummer and also helps with vocals, and lead singer Geoff Weers plays guitar. Together they create what they define as "Cali-reggae-rock." They are truly West Coast boys at heart. Some of their influences are Bob Marley, Steel Pulse, UB40 and Israel Vibration. The band started playing at "house parties in high school," DeMars said. They described their journey of success as a "gradual increase" that "didn't happen overnight … it was an organic business." The largest venue the band has ever played was Red Rocks in Denver, which has a 9,000-person capacity.
There is not one person tasked with writing all the music; it's always a collaboration. Sometimes one member will come up with a few chords or lyrics and introduce it to the rest of the members. From there they will jam until it comes together as a complete idea. The songs are all about positivity and friendship. They are passionate about their music and they hope their fans are passionate in their own lives as well. DeMars said that "there's nothing more magical than playing a show" and that everyone should find their "personal treasure" — something that makes life worth living.
The Expendables have been hard at work when not on tour. They have recorded two albums worth of material and are planning on releasing another album in the near future. They promised to come back to Philly, so don't miss out next time!