How much alcohol on average would you say that Americans drank every year in the 1830s? Do you think that you would be able to match them? Do you know why we have so many different mixed drinks today or why we have cruises? These questions can be answered by going to the National Constitution Center to see the "American Spirits: the Rise and Fall of Prohibition" exhibit.. It costs $16 with a student ID and less than half of that with a Bank of America Card for both the exhibit and the general entrance fee to the Constitution Center.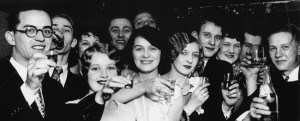 This exhibit is smaller than past exhibits I have been to at the Constitution Center, but you get the feel of the Roaring Twenties the moment you step in, and it is the most interactive exhibit that I have ever seen there. Overall, the creators of this exhibit successfully conveyed the sense of the nation before and during Prohibition, until it was repealed in 1933.
The exhibition lacked extensive history on people like Frank Costello, Lucky Luciano and Al Capone, but I was happy to see that Philadelphians were incorporated into it. For example, they quoted a letter from an "angry" native Philadelphian to Rep. Andrew Volstead (a chief sponsor of the bill that enacted Prohibition), which said, "That people like you are enabled to enact your narrow views into laws … is an evil in this system of government which some day will be blotted out." Those in favor of national Prohibition had views similar to Sen. Morris Sheppard, who once said about Prohibition: "There is as much a chance of repealing the 18th amendment as there is for a hummingbird to fly to the planet Mars with the Washington Monument tied to its tail."
After seeing the exhibit, I would recommend, for those of age, topping off your day with a visit to a local pub or bar with a 1920s feel. Listed below are two drinks from the 1920s. The first, the Clover Club, is a Philly creation from before Prohibition that became popular once again during Prohibition.
Clover Club:
2 ounces gin
Juice of ½ lemon
1/4 ounce raspberry syrup
1 egg white
1 teaspoon sugar
The Clover Club is then shaken, which makes the egg white become foamy. The egg white acts as an emulsifying agent.
The Widow's Kiss:
½ ounce of Chartreuse
½ ounce of Benedictine
1 ounce apple brandy
2 dashes of Angostura bitters