The real rock 'n' roll dream is not fame; it is the ability to do something you love for a living. Music is about sharing what you create and building something bigger than just the men with the instruments. There doesn't seem to be a present-day band that understands this more than Empires. The Chicago-natives brought their indie rock to Philadelphia's Union Transfer April 6 and are proving they have the do-it-yourself-ethic and passion to create what makes a rock band.
Empires is no stranger to Philadelphia. Since the band formed in 2007, it has played at venues such as The Fire and North Star Bar multiple times. Opening for A Silent Film this past weekend at a bigger venue was another step forward for the band, a result of hard work and the passion of Philly fans.
"[Philadelphia] is actually one of the few markets that we've always done well in that when we go out on the East Coast we can always count on it being a very strong market for us," guitarist Tom Conrad said. "So we love it. [It's a] second home."
Empires introduced its music by releasing its debut album, "Howl," online for free May 2008. Without a label, the band has grown through the musicians' own efforts. The band writes its own music, and guitarist Max Steger produces and mixes all of the songs. Additionally, Conrad creates the band's artwork. Every aspect of the band is either created or directed by the members themselves.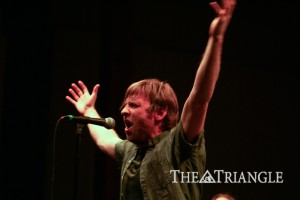 Indie rock band Empires performed at Philadelphia's Union Transfer April 6. Band members include guitarist Tom Conrad, vocalist Sean Van Vleet and guitarist Max Steger.
Through the Internet and by word of mouth, the band has gotten its music out to the public. Empires has offered EPs for purchase as well as free songs here and there. Conrad revealed that the group feels strongly that being in a band is about sharing, not making money.
"I think we're all big believers that music's free. We download. If you want to consider it stealing, we don't. We're still artists ourselves, and we feel like it's a very sharing process. It's everything from ideas to final projects to whatever it may be. We don't hate on it; we do it ourselves. We've always kind of looked at it as, 'If it's good, it will come back to you.' I always feel like our band should be giving as much as we can. The more you give, it will come back to you," Conrad said.
The growing support and dedication of their fans is more than enough proof that it does come back to you. Most recently, Empires released the EP "Can't Steal Your Heart Away" for free, and a common reaction from fans was that they would have been willing to pay for it.
Part of the band's appeal is its dynamic classic-rock vibe that ranges from ballads to dance numbers. Empires' sound has gone from the more polished rock to a rougher sound that fans were given a taste of in the latest EP. However, according to Conrad, the pending release is different.
"I feel like it does lead toward the record and sets up 'Garage Hymns,' but it's still not what people would expect it to be. So, there's more to come."
Whatever their new release will bring, fans can expect it to be well crafted. Without the pressure of a label, they take time to write music they are proud of. In addition to their big rock sound, singer Sean Van Vleet's lyrics are complex and refreshing. They go beyond breakups and pining after girls and take a more mature approach to love and life.
"I think all of us have been through so many [relationships] at this point in our lives, [and] relationships come and go. You learn from them, you grow from them, and it's just another part of life," Conrad explained. "Life can surprise you in a lot of ways, but you keep staying on your toes, and I don't think we try to have too many things weigh us down. We just keep moving on. Regardless of relationships or anything, we're a pretty quick-moving band."
With an upcoming release and lots of touring, they are definitely moving fast. They will return to Philadelphia June 24 at Kung Fu Necktie. They plan to visit more cities across the U.S., create more music and prove that the true rock 'n' roll dream is being good at what you do.