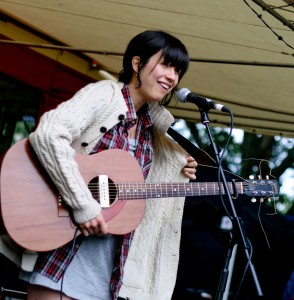 London-based songwriter Emma-Lee Moss, known by stagename Emmy The Great, performed for a 21+ audience at The Trocadero Aug. 17. She brought an abundance of laughs in between serious and gracefully constructed songs.
Before stepping off the stage at the Trocadero balcony, Emma-Lee Moss confidently delivered the lyrics to a song titled "Dinosaur Sex." As the first song on "Virtue,"  her sophomore album, it is an eye-catching title, unexpected to anyone unfamiliar with her work. As the final song of her set, or to any long time fans, it serves as a fitting example of what Moss, the Hong Kong-born, London-raised songwriter better known as Emmy the Great encompasses. Moss is bold and quirky and she can write lyrics about "how dinosaur sex led to nothing" in a way that is serious and meaningful.
The 21+ audience at the Aug. 17 Troc performance was left more than satisfied because not only is Emma-Lee Moss talented, she is also personable. She opened her set with "Eastern Maria," a number that showcases her powerful voice. The sounds of this hymn-like song filled the tiny venue and provided a captivating beginning to her set. After delivering the final line of the song, straight faced and focused, Moss relaxed and delved into a story about the recent riots in England and singer M.I.A's disrespectful comments about the events as a way to explain the lyric changes in her next song, called "M.I.A.," from "I always liked this singer" to "I used to like this singer." Moss smiled, the audience laughed and the notes of the next song began.
The set progressed much the same way – songs played with an austere composure followed by lighthearted talking. While the seriousness of her songs seems like a stark contrast from her joking manner, nothing in Moss's set felt out of place. She is entirely herself. She is not a performer; she is a musician, a person with a sharp, witty mind. In a modern music world filled with Lady Gagas and Ke$has, it is refreshing for someone to stand in the spotlight and be outspoken without being a gimmick.
Emmy the Great's set contained songs mostly from her latest release. She was backed by American band Space Camp – who, Moss explained, she had met only the day before, and joked that " it [was] amazing they wrote all the songs, too." For a band that had little time to prepare with Moss personally, they played well. The Philadelphia stop was the "first day of mammoth two day tour," as Moss put it, leading up to a longer tour in the United Kingdom where she is more widely recognized. While the crowd at the Trocadero was small, those who came were attentive. It is hard not to be when the artist on stage has a powerful voice and entrancing instrumentals. After "Dinosaur Sex" concluded, Moss told the audience to pretend she was exiting the stage from the back (since the Troc balcony does not have a backstage) before returning barely a minute after stepping down to perform a short encore. Emmy the Great's next trip to the States is uncertain, but until then find a quiet place to put headphones on and take in the songs Moss has crafted.