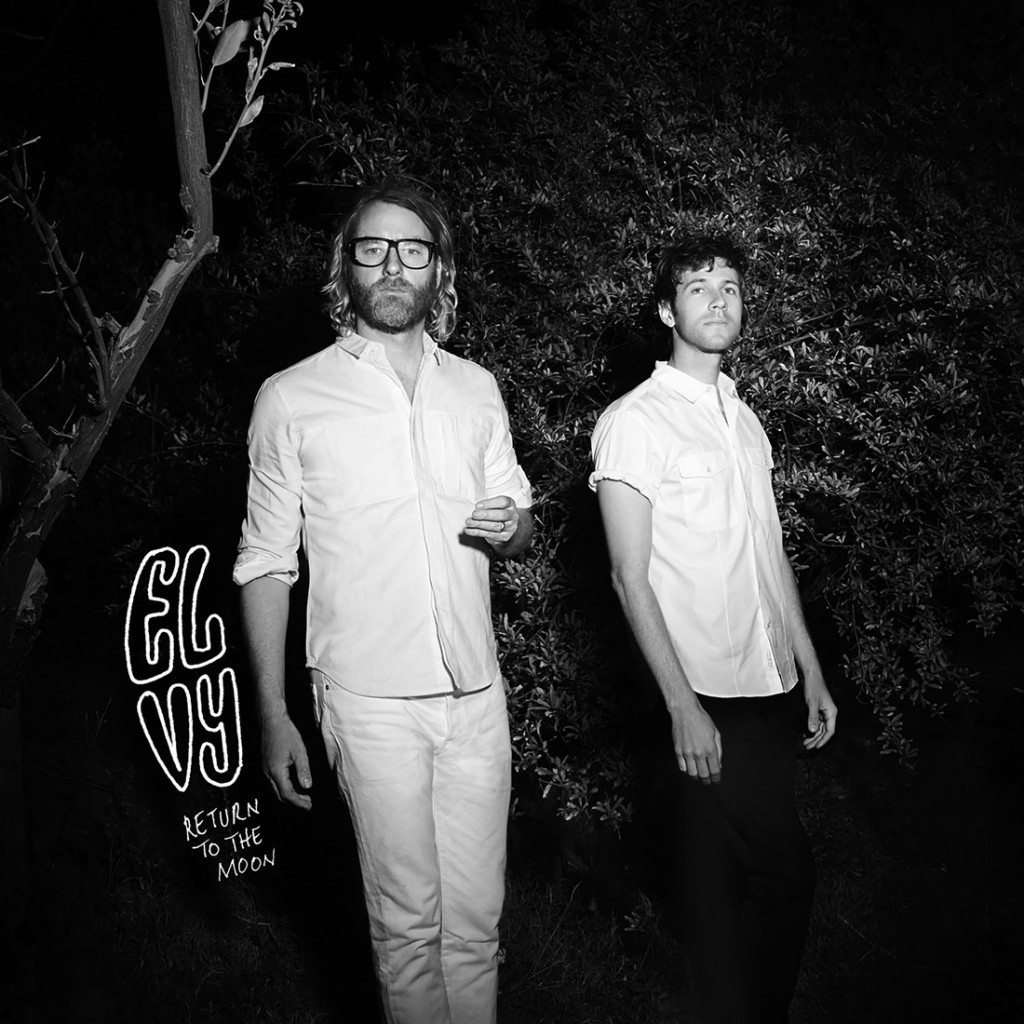 "Return to the Moon" is a neat little album by EL VY, a collaboration between the National frontman Matt Berninger and Brent Knopf of Ramona Falls. Side projects and collaborations are always compared to the collaborators' better known work. In Berninger's case, you are comparing this one album with the National's collective catalogue. A discography that has vaulted them to the stratosphere of the indie rock world. I want to try to avoid that, to take EL VY's "Return to the Moon" for what it is, a solid little album that is a cut above most recent indie releases.
The very first track on the album, "Return to the Moon" (political Song for didi Bloome to Sing, with Crescendo), sets a tone for the rest of the album. It's a light, almost-pop song that features a zippy guitar line that lodges itself in your head almost immediately. With a great bridge that takes you in the crescendo mentioned in the song's title, it's definitely a standout track on the album.
As only a casual listener of the National, you can quickly notice some commonalities with these tracks and those from Berninger's better known group. The conversation-like lyrics contain references to Berninger's hometown of Cleveland, Ohio as well as plenty of lines that don't seem to mean much of anything but sound nice in the context of the song and its melody. A great example is from the aforementioned title track, "I scratched a ticket with the leg of a cricket; and I got triple Jesus." Who knows what that means, but you'll find yourself singing it anyway. Nowadays, everyone wants to know exactly what every line of every lyric means. We have whole websites like Genius devoted to the subject and I keep asking, "Why?" Why can't we leave the artist some room for ambiguity, some room for us to place our own meaning behind the words we hear sung? Anyway, prepare for 11 songs filled with lyrics that may or may not mean anything all.
The album switches gears a couple of times throughout its run time. The A side featuring more rock-leaning songs like "I'm the Man to Be" and "Need a Friend"—the latter might just be the best track on the whole album. The transition over to the B side is a bit slow going with songs like "Silent Ivy Hotel" and "Paul is Alive," which drag on a bit and have now become automatic skips when I listen through "Return to the Moon."
However, the album finishes strong with its last four songs. "Sleepin' Light (feat. Ural Thomas)" is a favorite of mine, opening with soft, rugrats-esque keyboards before a slick guitar line starts up. "Sad Case" and "Happiness, Missouri" have a darker, more brooding aura about them that definitely feels a little like the National. And with "Careless," EL VY close the album with a great, sad song that will linger with you long after you've finished listening.
All in all, "Return to the Moon" is a tight, solid album that delivers some great tunes in the crowded indie rock scene. Sure it sounds like the National Lite in parts but I would probably be saying that it sounds like Ramona Falls Lite if I had had the chance to listen to their songs at all. That's just the nature of collaborations.
EL VY will be coming through Philadelphia Nov. 10 to play a show at Union Transfer. I recommend giving "Return to the Moon" as listen and if you like it come on out. If you're a fan of the National, don't miss the opportunity to see Berninger in such an intimate venue. They'll be playing "Return to the Moon" in its entirety and hopefully the show will be out of this world.