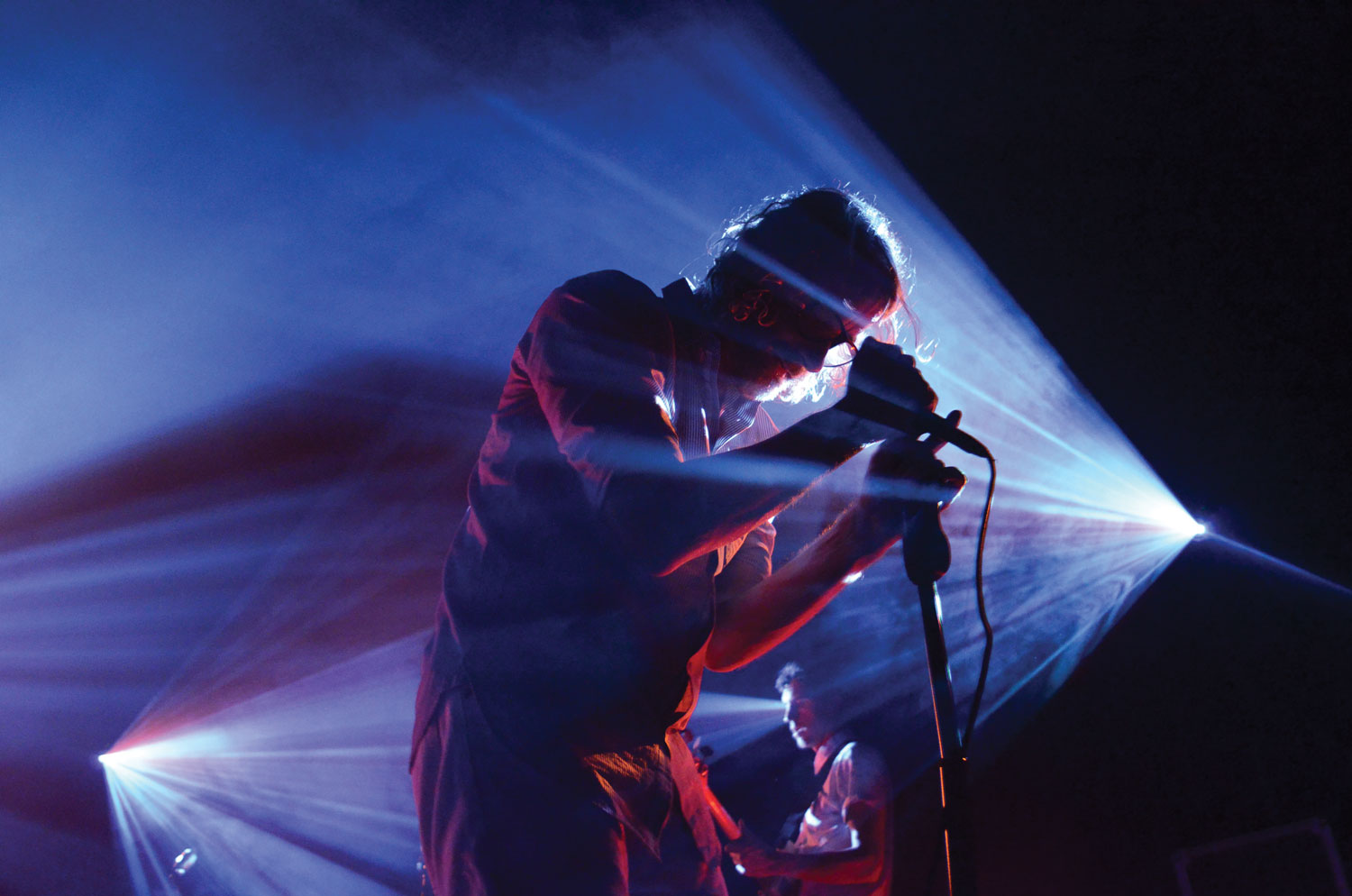 When it rains, it pours. That statement is never more true than when you live in a city. A landscape of buildings that smother the sky, concrete walkways devoid of green and a drab, dreary, omnipresent gray atmosphere instill melancholy into almost everyone you see on the street. That was the case on Nov. 10. With all that said, I couldn't have been more excited. I braved the weather to see a new band that some may have heard of, but most haven't. The new project, headlined by Matt Berninger and Brent Knopf named "El Vy," played at Union Transfer and I had anticipated nothing less than the show of a lifetime.
The band is a side project from the widely known musician Berninger, frontman of 10 years  for indie/alternative rock band The National. Known for his distinct baritone voice, his notoriety helped garner attention toward El Vy, and almost every show on their tour was sold out. Knopf had previously founded the group Ramona Falls and was also a part of another band, Menomena. The two had talked about collaborating for a long period of time. Berninger, while taking a short break from The National, decided this was perfect opportunity and the two came together to write and record an album.
Having never before heard of the opening band Wye Oak, I had no idea what to expect going in.  The duo came on stage and immediately began their set. From the get go, I was captivated. Haunting tones and ethereal melodies came from Jenn Wasner, who alternated between bass and guitar in addition to vocals. I was also dumbfounded at how one person could simultaneously play both drums and keyboard. If I hadn't seen Andy Stack do it, I wouldn't have believed it possible. The two had me wanting more as their short 45-minute set came to an end. A short intermission led to the crowd warmly welcoming the members of El Vy as they walked on stage.  Stack stayed on stage to play drums for the night while bass was covered by Matt Sheehy of the group Lost Lander. This was my first time seeing Berninger live despite having been an avid National fan and he did not disappoint.  
His first impression on me was memorable. "Sorry for taking so long, we had a bottle of vodka and tequila so it took a while to kick both." A man after my own heart. The band did not disappoint either. They played their entire debut album song for song. Berninger was gregarious and friendly, openly having a good time and enjoying the experience of performing. The crowd loved him.
Listening to all their songs, it's very hard to define just what kind of sound El Vy has. I was at times enthralled by the slow sonorous narratives that Berninger gives life to with his vocals, a steady slow beat of bass and synth in the background. Other times, it was pure rock and adrenaline as band members jumped to and fro with Knopf and Sheehy masterfully playing their guitars and Berninger shouting into the mic. Stack was a constant flurry of arms in the background with each song. The group meshed together perfectly.
The thing I enjoyed the most was just how much the band enjoyed the night as well. Looking at the audience's faces as each the musicians performed each song, you can see they were smiling at each other or laughing at Berninger's banter. After long having sought to see Berninger perform, I was not disappointed and combined with the rest of the band, my expectations were blown out of the water. I was thoroughly and masterfully entertained by these artists and can only wonder what the future holds for them.