"12 Years a Slave" is a hard movie to watch, much less put into words. It is violent, gritty, brutal, truthful and appalling. It is an honest, unflinching look at slavery and those who fought for and against it. Much to the credit of the writer and director — John Ridley and Steve McQueen, respectively — we don't want to look away when witnessing the brutal abuse of slaves at the hands of their masters. No matter how upsetting or graphic it can be, you are stuck in your seat, eyes glued to the screen.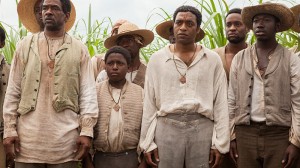 "12 Years" is based on Solomon Northup's 1853 memoir "Twelve Years a Slave" about his kidnapping and subsequent sale into slavery. The fact that the movie is based on a true story makes it even more difficult to watch. By the end, though, you have been learned — to use the language of the 19th century — that this truly happened; that this was the truth no more than a century and a half ago; that this was somebody's life; and that Northup had to suffer through these atrocities, gritting his teeth and just aiming to survive.
Northup is perfectly portrayed by Chiwetel Ejiofor. From the quiet, nonverbal shots to his loud and outspoken dialogues, Northup never backs down. Ejiofor captures the pure emotion of every single scene, the heaviness of every word, the longing and disdainful looks, the small ticks that play on his face — everything about his character i utterly believable. An impressive supporting cast was gathered to complement Ejiofor and portray the cruelties of slavery. Quvenzhane Wallis (child star of "Beasts of the Southern Wild") plays Margaret Northup, Solomon's daughter. Her co-star from "Beasts of the Southern Wild," Dwight Henry, plays Uncle Abrams. Michael K. Williams (Chalky White of "Boardwalk Empire") and Chris Chalk ("Homeland," "The Newsroom") also appear in "12 Years." Ejiofor's acting, along with all of the additional talent, brings the story to life.
Throughout "12 Years," you notice some major talents like Paul Giamatti, Scoot McNairy and Brad Pitt come and go in a heartbeat, while others like Benedict Cumberbatch, Michael Fassbender and Paul Dano stick around for great stretches of the film. Out of all the big names, however, only one really sticks with you: "Master" Epps (played by Fassbender), a deranged, crooked slave driver that uses Holy Scripture as justification to break "disobedient slaves." It is in Epps that we meet evil in its most carnal form. Even when he is not on screen, his demanding presence is felt in the shots of his slaves picking cotton or moving cautiously about. He becomes the bete noire of the entire film.
The movie as a whole may make some viewers cringe or look away, but that is the point — to make you feel for those who were wronged all those years ago and to shed some light on their pain and suffering. One of the most heart-wrenching moments occurs after a failed lynching by Tibeats (played by Dano). Northup is seen hanging with a noose around his neck, barely able to breathe, balancing on the tips of his toes, slipping on the mud to stay alive. In the background, his fellow enslaved men and women come out from hiding and just go about their business, not daring to help Solomon down to the ground or even to look at him. Solomon hangs there for hours, barely staying his execution until "Master" Ford (played by Cumberbatch) comes to his rescue.
The cinematography and score (beautifully composed by Hans Zimmer and reminiscent of his earlier work on "Inception") play out as the characters delve deeper into the emotion of the film. The long introspective shots of the flowing Louisiana swamplands paint the film in an inhospitably futile light that, coupled with the chillingly discordant string instruments, will give you chills. Cinematographer Sean Bobbitt uses purposefully simple and creative camerawork to form a living, breathing tapestry of a life characterized by pain.
Nearly every single thing about "12 Years a Slave" was so perfectly crafted that all of its cruelty and mistreatment, heartbreak and hopelessness, and brutality and condemnation come off as cold fact. The film reaches above the standard human-interest stories and comes together to form something that is pure art: a true story masterfully directed, acted, composed and shot.