Over the past few years, severe budget cuts throughout the Philadelphia School District have shortchanged students, offering minimal arts education and nearly no opportunity for students to participate in creative self-expression. Fleisher Art Memorial teamed up with Drexel University's graphic design program to retaliate against artistic apathy by storming the streets of South Philadelphia in ColorWheels, a new Ford Transit that is so brightly coated it can't be ignored.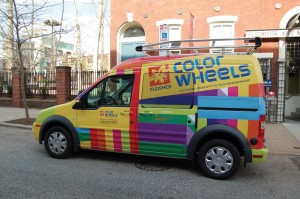 Drexel joined forces with Fleshier Art Memorial with ColorWheels, which challenges youths in the Philadelphia School District to express themselves through art.
The vivid hues and sharp geometric patterns of the van will certainly garner neighborhood attention as ColorWheels visits children in their neighborhood communities. Described as "the Swiss Army Knife of art making," it can transform into a mobile art studio for simple projects and host skill-building workshops, such as still-life demonstrations. It will eventually initiate "create-it-forward" projects, in which the work will build from site to site, allowing entire neighborhoods to contribute to the final project.
Additionally, instant exhibits will be set up during ColorWheels events so that those participating can not only make art but also enjoy it in the context of others' creations.
The $35,000 initiative, financed by PNC's Arts Alive program, is a nine-month process largely helped by design students Ilana McLean, Philip Gross, Catherine Lewandowski, Cara Brobst, Aaron Cichowski, Tyler Graham, Alexa Lareau, Scott Robertson and Andrew Stuber. The students began an independent study course under the direction of Jody Graff, director of the graphic design program, who, when approached by Fleisher about the project, envisioned her students helping to design both the look and brand identity for the ColorWheels van.
The process introduced students to Fleisher Art Memorial, its programs, and its vision for the ColorWheels venture. Once they understood Fleisher's mission, Graff took her students through a creative, collaborative design process, which pulled their best ideas forward to provide an attractive, attention-grabbing graphic framework. The students were fully responsible for refining the logo and van graphics, where proportions, logo placement, color scheme and vibrancy were all major factors in the van's final design.
Matthew Braun, executive director of Fleisher Art Memorial, believes that the Ford Transit is the perfect vehicle for their mobile artistic endeavor.
"It's designed as a general utility truck, so it can be set up any way we wish with interior, heavy-duty shelving, and a roof rack to accommodate our mobile studio needs," Braun said.
These needs are complex and include the space and materials for creative and fine arts such as silk screening, digital photography, painting and ceramics.
"It can maneuver easily through the narrow streets of Philadelphia, park just about anywhere, and is, quite simply, as adorable as can be," Braun said.
Though the brunt of the design work is finished — the ColorWheels van was unveiled March 24at 8th and Christian streets for a ribbon-cutting ceremony at Fleisher's home base — Lewandowski and Gross continue to design the print materials required for the program, including posters, magnets and postcards.
"As far as I know, there had been no previous collaboration between us and Fleisher, so I think it was exciting on both ends," Lewandowski said. "They're an amazing institution that really cares about their community and how they can enhance people's lives through art, and it was a really rewarding experience to work with them and be a part of what they do."
"We know that ColorWheels will help create greater access to art making, especially for people who encounter barriers to arts participation," Braun said. "ColorWheels is designed to bring art making right to their doorsteps, playgrounds and community centers."
And as for the work created by our own Drexel students?
"The final product is obviously superb," Braun said. "They hit it out of the park."
Last November, First Lady Michelle Obama presented the 2011 National Arts and Humanities Youth Program Award to Fleischer's Youth Arts Programs. The award is the nation's highest honor for out-of-school arts and humanities programs.
You can take part in the arts with ColorWheels at the Cambodian New Year Festival April 14, the Asian Pacific Association Festival May 19 and Artspiration! June 9. For more information on ColorWheels, visit www.fleisher.org.