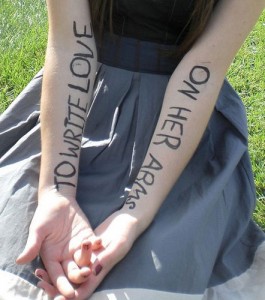 Starting June 3 at noon, the music program will be rocking out all day in Drexel Park for the Spring Music Festival. The concert, which celebrates the last day of spring term classes, will be in support of the charity To Write Love on Her Arms. While the event will be free, there will be drinks and baked goods for sale to help raise funds for the charity. For those not familiar, To Write Love on Her Arms is a nonprofit dedicated to the prevention of suicide, depression, substance abuse and self-injury.
Entertainment and arts management seniors Jilian Holcomb and Kim Thomas took on producing the event as their senior project. When approached about producing the spring music festival, the girls immediately saw an opportunity to do something bigger. The two soon-to-be alumni put their booking and promotional skills to good use and soon found interesting ways to add to the event.
"At first, we wanted to just add student bands to the bill, but as our ideas started rolling, we realized we should use this opportunity to raise some money for a charity both Kim and I know and support," Holcomb said.
"It's not often you get an opportunity to really change lives working in the music industry," Thomas added.
Although they said it was not easy to pick just one charity, they decided on To Write Love on Her Arms because they felt it was one cause that many people could relate to.
"I can't think of one person I know who hasn't been closely affected by depression or substance abuse. To Write Love on Her Arms is all about letting those who suffer with these ailments know that recovery is possible," Holocomb said. She and Thomas hope to raise enough money to make a substantial donation to To Write Love on Her Arms.
Performing at Drexel Park are the University's percussion, guitar and rock ensembles and fusion band. Alongside the ensembles will be three student acts: W.C. Lindsay, Brave Elephant and D & M. First off, W.C. Lindsay will be offering up his fresh blend of acoustic and electric in his usual fashion. Perfectly blending folk rock with electric pop, W.C. Lindsay will provide the perfect transition into one of my latest favorites, Brave Elephant. This band does a wonderful job ensuring the beautiful harmonies and intricacies of their recordings are not lost in their live performances. Closing out the night will be D & M. After a very successful kickstarter campaign, the alternative pop band is now gearing up for the "D & M – Every State of the Union (Or At Least The 13 Original Colonies) Summer Tour 2011″ that will take them all the way to Las Vegas.
Music starts at noon and will run until after 7 p.m. Grab a picnic blanket or lawn chair and come on out to Drexel Park to not only support a great cause, but find out what our music ensembles have been working on all year.