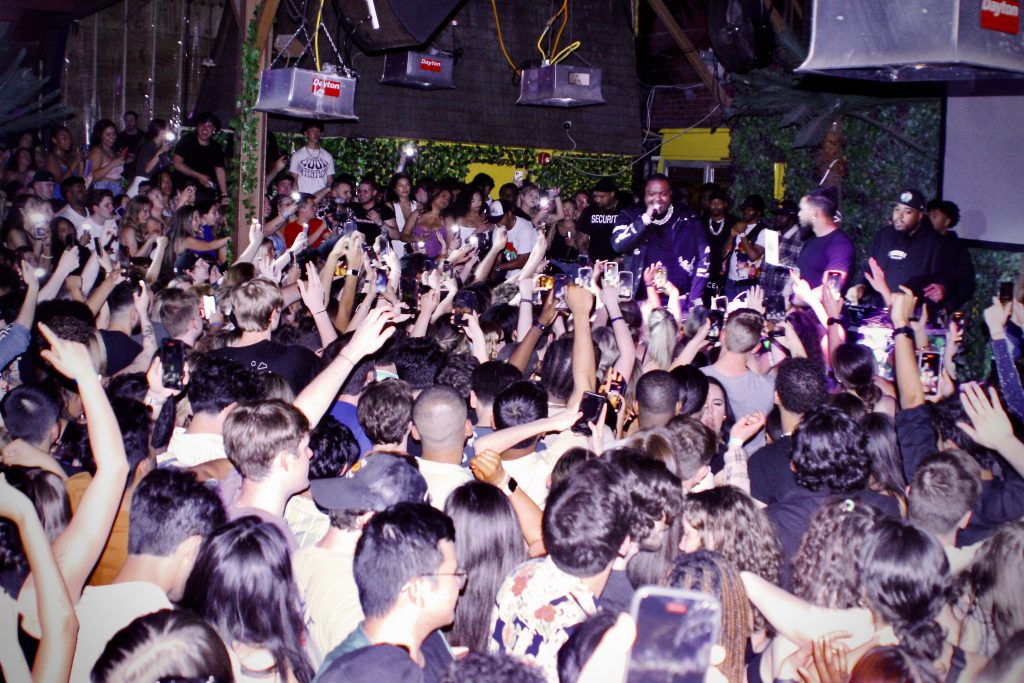 For millennials and Gen Z, rapper and singer Sean Kingston rings a bell of nostalgia for reggae fusion hits like "Beautiful Girls," "Eenie Meenie," and "Fire Burning." Kingston's debut single, "Beautiful Girls" in May 2007, earned him the number one spot on the Billboard Hot 100 for three weeks. Since then, Kingston has released four studio albums and 21 singles. Kingston's return to the stage has allowed emerging, young artists to join him, such as Drexel University student and DJ, Jacob Bloom.
Kingston made his Philadelphia appearance Thursday, April 13, at the nightclub, Roar Philadelphia. He headlined Philly Welcome Week's event, which is owned by Plugged University. Plugged University brings celebrity events to over 25 different college markets across the United States and organizes 18+ festivals and concerts throughout the school year. Plugged University hosts more than 100,000 attendees a year and has thousands of brand ambassadors.
On March 3, 2023, Kingston performed at PTL Nightclub in Tampa, Florida, for Plugged University. This inevitably led Kingston to embark on Philly Welcome Week. From there, Philly Welcome Week was able to execute the event.
Philly Welcome Week has hosted events for various holidays and celebrations such as Halloween and university welcome week events in September. The primary locations for these 18+ club nights are at Roar and The Ave Live. 
Various DJs opened the show, including students and alumni from University of Pennsylvania and Drexel University, such as "Nikos, Miro, and DJ.VK." and host and Drexel University alum, @officialmartinmusic. One opener included Jacob Bloom, a third-year finance major at Drexel University.  
Bloom found out about the gig when Philly Welcome Week posted on their Instagram. He reached out to one of the partners and was told that many other people also want to DJ. To secure his spot, he had to sell a lot of tickets. 
"I started to sell tickets and I stopped because I thought I wasn't doing well," Bloom said. 
Soon after, the two partners of Philly Welcome Week reached out to Bloom to set up a call. Bloom felt he was back on track and more determined. He reached out to organizations at other universities and accumulated enough tickets to open for Kingston.
Bloom would not have been provided this opportunity without his previous work, his story began at 12 years old when he started a video montage business for Bar Mitzvah and wedding videos. At the end of his sophomore year of high school, he reached out to the entertainment company Rock It Entertainment in Cherry Hill, New Jersey. The company told him they had no video projects but were looking to train someone to DJ and asked if Bloom would be interested. From there, the company trained Bloom to DJ in the wedding scene. While at Drexel, Bloom has dj'ed at clubs such as NOTO, Voyeur, West & Down, Pace & Blossom and the AEPi fraternity. 
"I'd say within the last year and a half I've made significant improvement in terms of exposure to shows and clubs, and other DJs and networking in the city," Bloom said.
Although Bloom's personal favorite is house music, "specifically on a yacht in Europe," his music taste when DJing is specific to the style of event. 
"Depends on the type of event or type of artist I'm doing but I really like to keep it open format, what people know, what people like to sing and dance to, and I think it's really about being able to recognize the audience and the spot and my role in the night," Bloom said. "The type of music and the transition is directly correlated to the energy and the crowd of people I'm DJing for. I'm really learning not to play what I like but to play what I think is the vibe in the night at the time I'm playing."
Bloom has built the confidence and skill to DJ in Philadelphia through new opportunities and with the support of his fraternity, AEPi. The alumni have supported his work and provided insight from the frat basement to the nightclubs. 
Although Bloom opened for Kingston, he was unable to officially meet him. Bloom went into the crowd after his act and by the time Kingston made it backstage, the crowds at the entrance were nearly impossible to barge through.