The Drexel Players successfully closed the curtain on yet another top-notch season. The musical satire "Urinetown, The Musical" has been a much-appreciated escape for students overwhelmed with midterms.
The highly entertaining and hilarious musical was directed by Peter Reynolds and featured original music and lyrics by Mark Hollman. The show opened May 4 and played through May 13 in Drexel's Mandell Theater.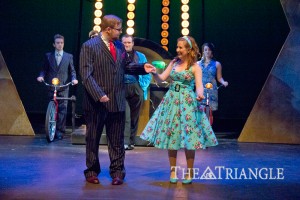 Reynolds is the head of musical theater and assistant chair for the Department of Theater at Temple University. He has directed a number of plays, including "Sweeney Todd," "Sweet Charity," "Damn Yankees," "Into the Woods," "Ragtime," "Company," "Pericles," "Shakin' the Mess Outta Misery" and "Beautiful Thing." Additionally, he is the artistic director of the Mauckingbird Theatre Co. in Philadelphia.
"Urinetown" takes its audience on a humorous musical journey that explores the effects of capitalism, social irresponsibility, economic inequality, and the importance of sustainability, all of which are applicable to society today.
The story is about a town that charges its residents to urinate. Free bathroom facilities are no longer available to the public after the so-called "stink years," and the public rebels against the injustice under the gallant leadership of Bobby Strong.
In addition to comedy and political satire, the musical also features romance, as Strong falls in love with Hope Cladwell, the daughter of the authoritative owner of the Urine Good Company.
Joe Matthew and Kristen Tripolitis played Bobby and Hope and did a magnificent job in capturing the true essence of the characters. Matthew, in particular, surprised the audience with a dance sequence that incorporated a mix of Hindi Bollywood music and won the crowd over; people laughed along uproariously.
Allison Brobst played Penelope Pennywise and could not have suited the role more perfectly. She added life and laughter to the show.
The costumes designed by Lauren Perigard did the show justice. The dresses suited each and every role perfectly and added an extra and much-appreciated touch to the show. The shimmer from Mr. Cladwell's suits and shoes could be seen from a distance while Tiny Tom's fan hat spun all night long.
Choreographer Maggie Anderson played to each character's strengths and potential. Not only did the actors dance phenomenally, but their voices were outstanding as well. They danced in synchronization and hit every note to perfection.
The backdrop, capturing the soul of the fictional town, deserves to be applauded.
The audience in the packed theater gave a standing ovation to the deserving cast and crew.
"Urinetown" was a must-see performance that offered two fun-filled hours of humor and lightheartedness. Hats off to the Drexel Players for another successful season!