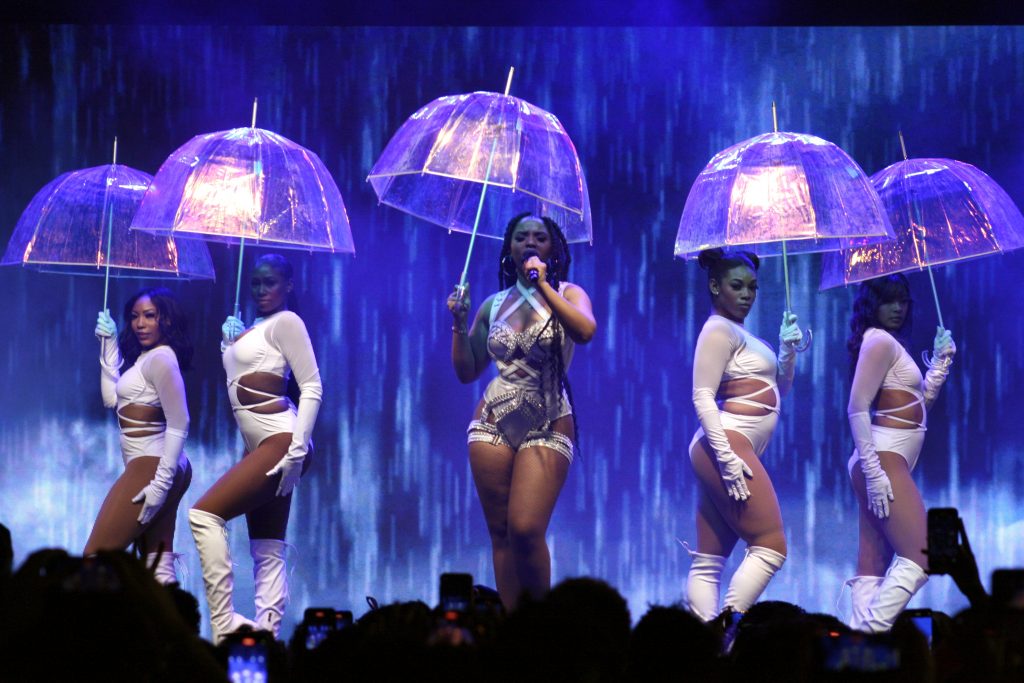 Dragonfly 2023, featuring an all-female lineup, was an electrifying event that showcased incredible talent and unforgettable performances. The event proved to be the perfect platform to uplift these amazing women in a traditionally male-dominated field.
The evening began with the dynamic Drexel University music industry student Djella, who set the tone for the night with a mix of upbeat, funk, pop and club hits. Her infectious energy and masterful mixes commanded the atmosphere and exemplified the theme of powerful women, setting up the night to become truly unforgettable. Her transitions were seamless, and she had the crowd dancing and singing along to a diverse selection of songs. Notable moments included but are definitely not limited to remixes of Dua Lipa's "Levitating," Saweetie's "Tap In," Beyonce's "Crazy in Love" and a surprise rendition of Rihanna's "Diamonds." Djella's 40-minute set was a high-energy start to an evening filled with music and empowerment.
Following Djella, we asked Drexel students about what Dragonfly meant to them.
Drexel students Nana, Ellie, Maya and Calvin collectively voiced that they "loved Djella's entire set," and that having a "headliner as big as Chloe Bailey is bound to be amazing." In their excitement for the night's show, Maya exclaimed that they had "been here since 5:30 p.m., when no one was even in line yet!"
Up next was Pamé, Drexel's first female Dominican performer, captivating the crowd with her Afro-Latina flair. She showcased an array of unreleased songs, blending melodic Spanish and English tunes with explosive rap. Pamé's stage presence was magnetic, and her interactions with the crowd made everyone feel at home. Songs like "Fresh Water" and "Bullet" had the audience singing along and dancing, while her slower ballad "One Step Closer" showcased her pitch-perfect vocals. Her closing song hit deep with huge beats consecutively raising octaves with every repetition of the chorus. Needless to say we were all Pamé fans by the end of the night.
We were grateful to have a moment to connect with the incredibly talented and approachable Pamé after her show.
When talking about her start in the music industry, she told us that "it has always been in my blood."
Growing up, Pamé's father was a percussionist and her mother was always encouraging her to follow her passions.
She also participated in musical theater but later "did not want to compete with every Black girl for The Color Purple."
Determined to pave her own path, Pamé moved to LA to pursue her dreams and never looked back. Pamé's journey echoed resilience and determination as she proudly embraced her unique heritage and channeled it to fuel the path to her dreams.
"The crowd tonight was amazing, you guys are so hype and so amazing," she doted, "I am just so honored to be here tonight with you all."
After much anticipation, the headliner of the night Chloe Bailey made a grand entrance with her dancers, who wore all-white outfits which provided a beautiful contrast and enhanced their incredible body control and sharp movements. Bailey's stage presence was unmatched as she engaged with the crowd and encouraged everyone to dance. Her set included a mix of her hit songs, such as "Mercy," "Shake" and "They Don't Love Me Like You." Bailey's vocal prowess, highlighted in songs like "Lose You," left the audience in awe, and she connected with fans on a personal level, telling us to sing along if "you are scared to lose somebody you know isn't right for you."
Throughout her performance, Bailey fearlessly shared moments of vulnerability and empowerment. She spoke about self-love and the challenges she had faced, making her music even more meaningful and relatable to her audience. She played a keyboard solo and exhibited her versatility by controlling the beat and the crowd's emotions. Her powerful performances, including "Smile" and "Treat Me," showcased her ability to convey deep emotions through her music with an upbeat flare.
After a quick break, Bailey made a striking re-entrance, donning a red leather jacket that cascaded down to her mid-thigh. She engaged the crowd with slow gestures, playfully swinging a red belt, all while maintaining a pitch-perfect performance. The whimsical look in her eyes hinted at the layers of emotion yet to be revealed.
Bailey's next song, "Heart on My Sleeve," explored the theme of loving those who continuously hurt her. With a keyboard solo, she controlled the beat and captured the audience's attention. The heartfelt lyrics preached self-love and positivity, striking a chord with everyone in the venue. As the song reached its peak, dancers in matching red coats joined her on stage, adding a soulful dimension to the performance. The emotional connection was palpable as they stared into the distance resonating with the crowd's collective heartbeat.
A cohesive blend of soulful ballads, energetic dance numbers, beautiful falsetto and vibrato and messages of self-love and empowerment, Bailey's performance was one to be remembered as more than just a performance — but a transformative experience that celebrated the strength and diversity of female artists in the music industry.
At the end of the night, we had a moment to chat with Campus Activities Board's Tekum Kassa to reflect on Dragonfly 2023. She was proud to tell us that this year's concert was historic, as it was the first time that Drexel has ever had an all-female lineup. It was also the first time since 2017 that we have had a female headliner and that "diversifying the Dragonfly lineup both identity-wise and genre-wise was definitely a priority this year."
After hearing past requests for Latin artists, she added that Pamé was "an amazing surprise." Our conversation shifted as we talked about what it takes to put on a show as large as Dragonfly.
Immediately thankful for her CAB team, she claimed that her "team has been amazing, everyone works so hard and has been so on it from the start– from the marketing team to the production and operations team, to the artist hospitality team." It was safe to say that CAB's hard work to put this event together was well worth it and a huge success.
As the night came to an end, Kassa expressed in earnest "it's so good to see everyone's smiling faces, to be part of something that brings people so much happiness."
Dragonfly 2023 truly was a night of unity, solidarity and empowerment, truly paving the way for a future where women can continue to redefine their narrative within the world of music.