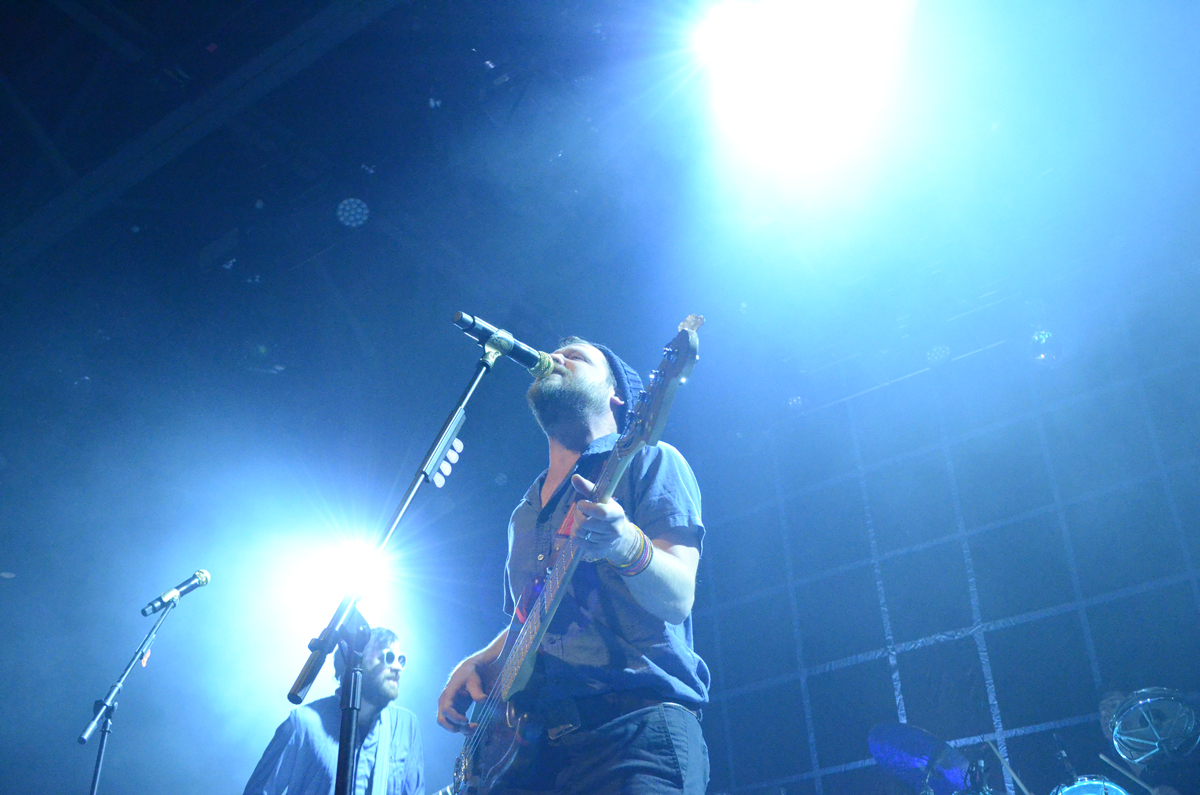 I have seen Dr. Dog perform live five times. That is a lot of times. A lot of people may wonder what kind of magical appeal the band must have in order to get me to keep coming back again and again. It's hard to put a finger on, exactly. It just happens that Dr. Dog is one of those rare bands that operates on a whole other level as soon as they hit the stage. During the final show of their "Psychedelic Swamp" tour at the Fillmore April 16, Dr. Dog let it all hang out and reaffirmed why I will try to see them any and every time they come back home to Philadelphia.
Speedy Ortiz opened up for Dr. Dog and I have no clue how their set went because I was busy watching the Flyers game (c'mon it's the 'yoffs, baby). I'm sure it was both well and good. They had neat t-shirts on sale. Check 'em out on the band's website! I've never listened to one of Speedy Ortiz's songs and likely never will after missing this opportunity to see them.
Dr. Dog came on at around half past nine and eschewed their typical opening songs in favor of the trio of "The Beach," "That Old Black Hole" and "Distant Light." It was bonkers. This would set the tone for the evening as the band only played one song ("Bring My Baby Back") from their latest album, "Psychedelic Swamp."
It's a testament to either Dr. Dog's extensive discography, or my laziness in listening to it all, that I always seem to hear a song or two for the first time when I see them live. At this show, it was "Phenomenon" off "B-Room," a nice song in its own right. I then went from being in the dark song-wise to hearing the song that got me into Dr. Dog in the first place, "Shadow People." It's definitely one of their best tunes and it's hard to beat singing out the opening line "The rain is falling, it's after dark," with 2000 other people.
Towards the end of their set, Dr. Dog shifted into greatest hit mode and it was freakin' insane. "Shame Shame" transformed from a laid-back jam into an all out banger that had the added benefit of "Shame, shame" sounding a lot like "Shane, Shane" over the venue's speakers. Dr. Dog didn't take their foot off of the gas as they played "How Long Must I Wait?," "These Days," and "Heavy Light" back-to-back-to-back. Then, when you thought things couldn't get any better, drummer Eric Slick's father emerged with an acoustic guitar and the band launched right into "Heart It Races."
After all those top-notch songs in a row, I nearly keeled over. But I'm a pro, a Dr. Dog veteran: I knew the encore was going to be bananas.
They kicked off the encore with "The Truth," my favorite track from "B-Room," before taking some requests from the audience. I fought the temptation to blitz my way to the front in an attempt to make requests at back to back shows. It didn't matter though, because the first request was all I wanted, "Say Something," from "Easy Beat." Go ahead and take a break from reading this to give that song a listen, I can wait.
Pretty good right? After that gem, another person requested "Nellie," another great song. Then, the band closed with "Oh No" and "Wake Up." It's hard to beat "Easy Beat," as it turns out. As fans headed for the doors, I was astounded about how good Dr. Dog was yet again. They are one of the best live acts this city has to offer and you'd be making a poor choice not to see them the next time they come home for a show.