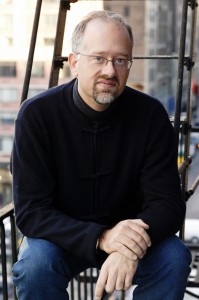 Pulitzer Prize-winning playwright and screenwriter Doug Wright spoke to a group in the URBN Annex Screening Room May 7. Wright is completing a residency at Drexel, in which, he has hosted three drop-in conversations with screenwriting and playwriting students, a "producing" class to discuss arts policy, censorship, funding and advocacy in a class titled "Art, Culture and Society," all housed in the Antoinette Westphal College of Media Arts & Design.
Additionally, as a part of his residency, Wright hosted a professional development workshop about job hunting and selling scripts. Students were encouraged to bring a short piece of drama, fiction or nonfiction writing as discussion fodder.
The title of Wright's presentation was "Stage to Screen and Back Again." Wright's catalogue ranges from dramas to a Disney musical to works inspired by true-life events. While the audience was encouraged to ask questions whenever they arose, the format for the evening was an informal conversation between Wright and Blanka Zizka, founding artistic director of the Wilma Theater and a long-time friend of Wright.
After an introduction from Brian Moore, director of the entertainment and arts management program, Wright and Zizka made their way up to the front of the auditorium. The overarching goal of the talk was to explore story crafting, the processes of developing new plays, turning plays into movies, and examining the narrative and dialogical differences between stage and screen.
The conversation began with Wright's work "Quills," which began as a play and made its way to the silver screen. Wright was extended the opportunity to write its screenplay for the film version. He remarked that it was a great experience because he had a good connection with the film's director and that he was welcomed in different aspects of the movie aside from merely the screenwriting process.
Next, the duo chatted about Wright's characters. He noted that he likes creating eccentric and idiosyncratic characters, saying that he feels as though marginalized characters can tell us the most about ourselves.
The conversation moved into charting the differences between stage writing and film writing. Interestingly, Wright mentioned that one of the most striking differences in his experience was that film is touched by a lot of hands, while playwriting is more of an individual feat. Wright indicated that there are completely different sets of expectations for the two mediums, as moviegoers anticipate films to be strenuously accurate and realistic.
Later, Wright elucidated that for plays there is more artistic freedom, more metaphors, and more collaboration between the stage and audience. As a result, emotions are more intensely felt in plays rather than in film because plays involve more audience imagination. He gave the example of the sounds for breaking bones. While in film the audience might simply see the action and perhaps hear a cracking, on stage there is an orchestra backing said action.
Another interesting parallel Wright drew between film and the stage, harking back to the set of expectations, was that films "invite [the] audience to prove that the setting is authentic," while plays "do not make the audience ask the medium to prove itself." Film is a more passive experience.
Wright's conversation was speckled with film and theater references that soared over my head, although the rest of the audience seemed to really appreciate them. After the differences between stage and film were established, the conversation then shifted to Wright's piece "I Am My Own Wife," which won two 2004 Tony Awards for best play and best lead actor in a play, a Pulitzer Prize for Drama, a Drama Desk Award for outstanding play, a GLAAD Media Award, and an Outer Critics Circle Award.
The play, which is based on conversations with German Charlotte von Mahlsdorf, tells the story of a transgender person who killed her father when she was a young child and survived the Nazi and Communist regimes in East Berlin. Wright explained that he felt compelled to share the story because it was a "piece of untold gay history about oppressive regimes and communist ties," and a story that he had a 10-year love affair with.
While writing the play he decided to slightly shift the perspective of the play by making it about his journey of discovering von Mahlsdorf. Wright shared that this interesting standpoint kept him honest by having to stay true to all characters. If he began to skew the play to make himself look more favorable he would have to skew it to make von Mahlsdorf look more favorable as well. As a result, Wright feels as though the play is more truthful and candid than it would have been otherwise.
After this portion of conversation, the evening organically shifted to audience questions. One audience member asked about casting, especially with regard to casting different genders, ethnicities or races to play an "untraditional" part. Wright replied that the theater is predicated on one person playing another and that he would not be opposed to casting outside of conventionally conceived roles.
He also mused that theater teaches empathy and that it is the vast constellation of suffering. Another audience member asked about Wright's revision process. He suggested that writers should enlist the help of artistic directors, actors and people they trust to proofread their works. He shared that he goes through at least eight to 10 drafts for all his works.
After the question-and-answer session the audience was invited to a reception where the conversation and collaboration continued in the URBN Annex Lobby.