It's rare, but every once in a while I'll discover someone who doesn't like seafood. They'll tell me something along the lines of "they swim in their own filth" or "it smells funny." I've tried to understand these people, but despite my best efforts I just cannot find it in me to sympathize with them. Their reasons for refusing seafood never have anything to do with how a dish tastes. If someone took a bite of lobster meat, chewed thoughtfully and then looked me straight in the eye and calmly expressed their disapproval, I would accept their opinion readily, just as soon as I came out of catatonic shock.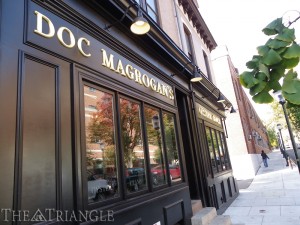 However, I can sympathize with these people when it comes to oysters. Don't get me wrong — I, being an experienced food critic, enjoy oysters very much. It's just that oysters never really undergo that important change to become aesthetically appealing during preparation. The animal exists as a tongue in a shell full of snot; when presented as a food, not much has changed. Yet in spite of their appearance, oysters are fantastic when prepared correctly, which is why I was incredibly excited to review Doc Magrogan's Oyster House on 34th and Sansom streets.
I was immediately impressed by the decor surrounding the bar. Nautical pictures lined the walls, and the bar was backed with mirrors and lit by oyster-shell chandeliers. In terms of environment, Doc Magrogan's comes off as a slightly upscale seafood restaurant. One qualm, though, is that the dining rooms and bar are quite spacious, but there is virtually no waiting area or lobby. New arrivals are expected to wait in a small hallway where there may be thru traffic. Normally this would be trivial, but considering the upscale atmosphere, it's unacceptable. Still, without reservation, my two dinner guests and I were seated in less than 10 minutes, so the wait wasn't terrible.
The server was nice and more than willing to explain the available selections. This was somewhat impressive as Doc Magrogan's offers a wide variety of choices from the predominantly seafood-based appetizers (such as Smoked Fish Dip and Grilled Octopus Salad) to the 20 different dinner entrees, including four beef or chicken dishes for the obviously confused patron. After careful deliberation, I ordered the New England clam chowder, the fish and chips, and two types of oysters on the half shell.
Like I said earlier, Doc Magrogan's is slightly upscale. It's spacious, quieter than most sit-down restaurants, and boasts professional servers and good customer treatment. It is not, however, exclusive. Yes, there were nicely dressed older couples and I was a little out of place in jeans and a hoodie (not that I cared about my fashion faux pas; I came for food, not style), but Doc Magrogan's caters to all types. The prices were a little daunting (my fish and chips were $17, and most entrees are in the mid-$20s), so it is pretty tough on the wallet. If you're careful and plan ahead, though, you should be fine, as I was with my order.
Fairly soon after ordering, my New England clam chowder arrived. Although somewhat petite (I ordered the cup for $5 rather than the bowl for $7), this soup was most certainly not lacking in substance. Every spoonful was hearty and full, with a heavy cream taste. More savory than salty, the clam chowder turned out to be great as an entry soup in that it more than tided me over until the main course.
Now, fish and chips are standard at most seafood restaurants and pubs, but there was one exception to this dish: Doc's Fries. The fries included with the meal are more like potato sticks covered in a sort of Old Bay seasoning that adds a really nice, tangy kick along with a hint of spice. I prefer a little more substance to my fries, but I can't fault them because they were exceptionally tasty despite their size. The fish was good, but I don't think it was anything special. It was tender and flaky, and it had the slightly oily flavor that beer-battered cod has, but there was nothing really to set the fish and chips apart from similar dishes at competing restaurants.
Finally, the oysters came out. Doc Magrogan's boasts a daily selection of 10-15 or so choices of oyster, with size classifications of small, medium or large and descriptions of each oyster's taste. My group settled on the Kumamoto, a small oyster with a sweet, slightly salty taste, and the Sunberry Point, a medium oyster labeled as having a fresh, crisp taste. I have to say, the descriptions were right on, as the Kumamoto was slightly salty but at the same time sweet, and the Sunberry Point did taste fresh and clear. However, I was surprised at the designation of medium on the Sunberry Point, considering that they were, in my opinion, fairly large. There was no objection, though, as they tasted great, had some substance to their meat and were easily my favorite of the two.
In the end, Doc Magrogan's was a great place for a nice sit-down meal, and it'll make you feel fancy if you're looking for an experience, but it's not somewhere to go just to grab a bite. The food is good but doesn't really earn any culinary awards for originality. If you have the spare cash, you should check it out, but unless you're really in the mood for oysters (in which case you should certainly go for a round), you won't be missing out on too much.
3/5