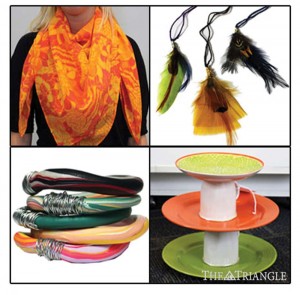 Looking for the perfect holiday gift this year? Whether you're shopping for friends, family or coworkers, you can find a special, one-of-a-kind gift at Drexel's Design & Merchandising Shop. The D&M Shop, formerly known as the D&M Kiosk, will pop-up again in December, just in time to stock up on holiday gifts. Along with the Antoinette Westphal College of Media Arts & Design, the D&M Shop has moved to the URBN Center, located at 3501 Market St. The D&M Shop gives design and merchandising students a hands-on opportunity to run a retail enterprise while promoting the work of Westphal students, faculty, staff and alumni.
This term, the D&M Shop will be offering a product assortment that includes handcrafted one-of-a-kind items made by Drexel students, staff, faculty and alumni, as well as a limited-edition product that has been designed and sourced by students. The pop-up shop will open Dec. 3 and will run through Dec. 7, with hours varying by day.
The D&M Shop will offer a variety of products, including jewelry, accessories, apparel, stationery, holiday decorations and home goods. Gift wrapping will also be offered for a small fee. One of the student-designed and sourced products is an exclusive Drexel campus cuff, shown below. The cuff bracelet is made of stainless steel and embossed with a map of Drexel's University City Campus. It is available in either shiny stainless steel or matte black.
With unique products, reasonable prices and gift wrapping, the D&M Shop can satisfy all your holiday gift-giving needs. The pop-up shop is located in the lobby of the URBN Center, and hours of operation are as follows:
Monday, Dec. 3, 3-6 p.m.
Tuesday, Dec. 4, 11 a.m. to 2 p.m.
Wednesday, Dec. 5, 8:30 a.m. to 11:30 a.m.
Thursday, Dec. 6, noon to 3 p.m.
Friday, Dec. 7, 9 a.m. to 2 p.m.
To find out more about the D&M Shop or how to submit products, go to http://tri.gl/S10Zez.