Detachable Collar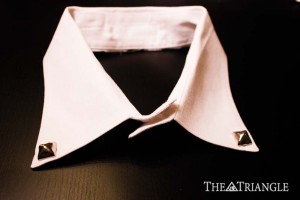 Fall is all about layering but not about the bulk. Here is a quick and easy way to recycle an unused button-up and transform it into a chic detachable collar. If you don't have one of your own, find a cheap collared shirt at a thrift store. Once completed, pair this collar with a shirt or sweater with a high neckline for a polished, layered look.
Studs are used in this do-it-yourself, but other embellishments, such as beads, buttons, pearls or even sequins, can be used.
Materials: scissors, studs (optional) and pliers (optional)
Steps:
Look for a button-up shirt that has a sturdy collar. Structured collars work best with this project.
Cut around the collar, keeping the button in the center. Be careful to not cut the seams.
Place studs in desired place and push until the stud pierces the fabric (the stud is sharp!).
Use pliers to fold the stud's prongs in one at a time, securing the stud.
[hr]
Chained Collar Tips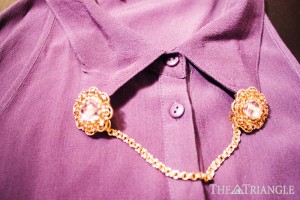 If you want to try the embellished collar trend without the commitment, another idea is to embellish a collared shirt with removable DIY collar tips using a pair of clip-on earrings.
Materials: gold chain cut to desired length, clip-on earrings, two jewelry jump rings and tweezers
Steps:
Use tweezers to loosen jump rings. It is important to grasp one end of the ring and pull up vertically to avoid damaging the ring.
Hook one end of the chain as well as the clip-on earring to one jump ring. Secure with tweezers.
Repeat the same procedure