In the words of Diggy Simmons: "I came to rock, I came to roll, I came to win, you lose control, then everybody in the place goes real wild, they like my style." That was exactly what the young rapper did when he took the stage – rocked it!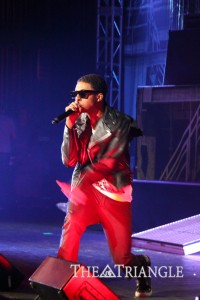 Diggy Simmons performed at The Tower Theater in Upper Darby, Pa., Oct. 8 as a part of BET's 2011 Scream Tour.
Diggy Simmons, son of one of hip-hop's legendary rapper Joseph "Rev. Run" Simmons of Run-DMC, graced the stage on Saturday, Oct. 8 at the Tower Theater in Upper Darby, Pa. I had a chance to interview the young sixteen-year-old prospective rapper, and not only was he well spoken, but his passion for music was exquisitely palpable. His charisma and poise brought joy to the already excited audience who was more than pleased to hear his rhymes. Even though Simmons has not yet officially dropped an album, his songs are well known due to plethora of hits on YouTube and his three mix tapes.
Simmons performed the last forty minutes of BET's 2011 Scream Tour to a group of enthusiastic fans. The audience was clearly impressed by his vibrant, upbeat and resonant lyrics. Not only was his performance that of someone who has been in the business for years, but his deep conviction and connection to the audience was riveting. He made an indelible impression on concert goers which seemed to linger on even after he left the stage.
Simmons released his debut mix tape, "The First Flight," in 2009, and it became a huge hit on YouTube. "Airborne," Simmons' second mix tape, was released in 2010, and followed by his third, "Past Presents Future." When asked how he began rapping, Simmons answered, "I started in 08' and I had no intentions of being famous; I just wanted to express myself." Following his YouTube success, Simmons had a bidding war over him from five record labels; he eventually signed with Atlantic Records, because he had a good feeling there that he could express himself. When questioned, "What great expectations you see for yourself?" Simmons replied, "I would love to someday have prestigious awards, magazine covers and break down the stereotypes about hip-hop and make even hip-hop more universal." With goals this big, the sixteen-year-old continued to say that he keeps himself grounded "by surrounding myself with real people and not yes men."
Not only is Simmons a growing rap sensation, but he plans to make a mark in the fashion world. He has a sneaker line out, named Chivalrous Culture, which is currently in stores and can be purchased at www.chivculture.com.
Even though his debut album has not being released, the aspiring rapper has had several prestigious acknowledgements. These include being nominated for MTV's Hottest Breakthrough MC of 2010; his song "Great Expectations" was featured in an AT&T commercial; he was also named as one of Billboard's Artist to watch for 2011. Not to mention being praised by Kanye West over Twitter, who proclaimed, "I knew this kid was going to be fresh. I knew it."
States Simmons in the song "Great Expectations," "Yeah, it's been debated and contemplated if Diggy's is overrated but what the haters have started never penetrated… it's greater than you anticipated." Yes, he is the son of a hip-hop legend and nephew to a hip-hop mogul; conversely, he is a proven lyricist and gifted rapper. From those looking at Diggy Simmons, you may think that he is just riding the coattails of his father's and uncle success. However, Simmons is doing just the opposite – he is a very driven, well-spoken centered young man with the talent to back it and is definitely one to watch. Diggy Simmons has captured the attention of those in the industry and peers alike with his fresh perspective, reverberating talent, youthful vitality and lyrical finesse.