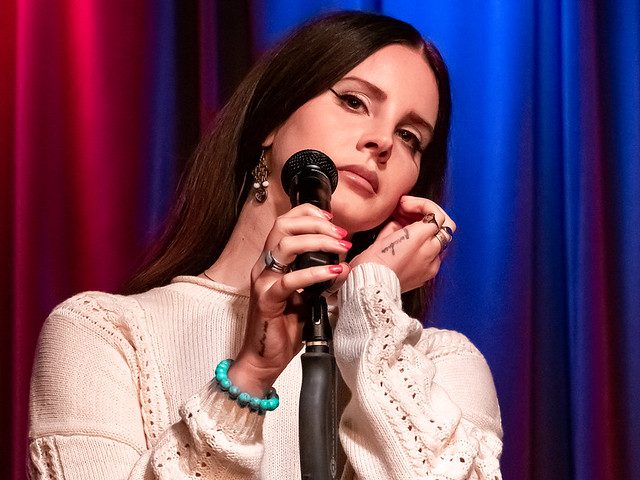 Lana Del Rey's most recent album, "Did you know that there's a tunnel under Ocean Blvd," was released on March 24. The album consists of 16 songs and is an hour and 17 minutes long.
Admittedly, I have not been following Del Rey's releases closely for the last few years, so I was surprised to hear she was releasing a new album. I did not listen to her last album "Blue Banisters" (2021) so I was eager to include some of her music in my rotation again. 
While I am a fan of Del Rey's work, I do think that her songs take a certain level of thought to understand, and "Did you know that there's a tunnel under Ocean Blvd" is no different. However, Del Rey's complex lyricism is part of what makes her songs so special. 
The album opens with the track "The Grants" which was released as a single on March 14. The song starts out with background vocals from Melodye Perry, Pattie Howard and Shikena Jones doing a repetition of the phrase "I'm gonna take mine of you with me." I really enjoyed the harmonies in the intro, but at a first listen I did not know what this song was going to be about. After getting further into the song, it is revealed that the lyrics in the intro are related to Del Rey's pastor telling her that when people die, they take their memories with them. She then goes on to list which memories she would like to take with her once she dies with the lyrics "My sister's firstborn child/ I'm gonna take that too with me/ My grandmother's last smile/ I'm gonna take that too with me." These memories paired with the gentle piano of the track are a beautiful sentiment. 
The title track, "Did you know that there's a tunnel Ocean Blvd," is the second song on the album. It was released as a single on Dec. 7, 2022. You may want to have Google handy for this one. After doing some research and reading reviews, I have gathered that the tunnel Del Rey is referring to is Jergins Tunnel in Long Beach, C.A. The tunnel was open to the public from 1928 to 1967. According to Auralcrave, the lyrics of the track are about how the tunnel has been forgotten by the world over the years. Del Rey expresses fear that the same thing will happen to her with the lyric "When's it gonna be my turn?" Honestly, an entire article could be written on this song alone because of how many references it's packed with and the symbolism behind it.
Track three, "Sweet," is my favorite off the album. The run that Del Rey does on the chorus lyric "Sweet" accompanied by soft piano notes is beyond soothing. Del Rey seems to be contemplating how her romantic partner sees her. She delves deeper into their relationship as she sings "Lately we've been making out, a lot/ Not talking 'bout the stuff that's at the very heart of things/ Do you want children?/ Do you wanna marry me?" While the physical aspect of the relationship is there, Del Rey appears unsure that this person wants her for who she is, and wants an actual life with her. 
Track four, "A&W," is one that commands attention and is a whopping seven minutes long. Del Rey defines what it means to be an "American Whore" and the experiences that come with that title, explaining that the sex she is having is no longer for her own benefit, but to prove a point, with lyrics "It's not about havin' someone to love me anymore/ No, this is the experience of bein' an American Whore." 
I think the topic of this song is incredibly important. The definition of what it means to be a whore is something I have been thinking about a lot in the past few months, as this same discourse has come up in one of my writing classes. The lyrics towards the end of the song, "If I told you that I was raped/ Do you really think anybody would think I didn't ask for it?" are especially powerful. Del Rey simultaneously claims this "whore" title in a way that shames the negative connotation surrounding the word, while also addressing the reality of society believing that people who are raped "ask for it," especially more sexually active people. The song itself brings a level of awareness to this long-standing problem. Although I doubt the people that truly need this awareness are in Del Rey's fanbase, I'm glad that the song exists and hope it, along with its message, becomes more widespread. 
I will say, I am not a fan of the "Judah Smith Interlude" on this album, which is track five. Before listening to this album I was not familiar with who Smith was, but after doing some research, I have learned that Smith is a known anti-abortion and homophobic pastor. I was not a fan of the interlude prior to knowing this information either. My exact thoughts were: why am I listening to a man screaming in anger for four minutes? It seems that other fans of Del Rey, especially queer fans, share my sentiment. Daily Beast stated that fans were upset by the inclusion of the interlude on Del Rey's album. Rightfully so.  
However, Daily Beast also mentioned that this interlude was included as an act of irony on Del Rey's part as Del Rey's laughter can be heard throughout the interlude, along with her saying, "Yeah, yeah" possibly conveying that she finds Smith's sermon to be ridiculous. Whatever the intent for the inclusion of the sermon, I do not really enjoy it. Aside from the speech of the sermon and the man who gave it, it takes me out of the experience of the album as we go from Del Rey's light and airy vocals, to the more harsh voice of Smith getting worked up.
Track eight, "Kintsugi," is referencing the Japanese art form of repairing pottery with gold. Del Rey sings about how even though she is broken, it is actually a good thing, with the lyrics "It's just that I don't trust myself with my heart/ But I've had to let it break a little more/ 'Cause they say that's what it's for/ That's how the light shines in." The imagery that Del Rey paints is beautiful, especially because of how pretty gold is when glimmering in the light. This track gives you the much-needed time to reflect before continuing with the rest of the album.
As for track ten, "Paris, Texas (feat. SYML)," it is a complete sample of SYML's song "I Wanted To Leave" as stated by Genius. SYML's piano track is already stunning, but the addition of Del Rey's breathy vocals takes it to the next level. Del Rey sings of various places she has taken trips to: Paris, Spain and Alabama. I interpreted the chorus lyrics, "When you know, you know/ When you know, you know/ It's time, it's time to go" as relating to leaving a situation that does not serve you anymore, which is what makes this track so easy to connect with. 
Track fourteen, "Fishtail," is one of the more sonically interesting songs on the album. Del Rey includes synth and warped vocals which caught my attention immediately. The instrumental and vocal effects are unexpected, as they do not hit until about a minute into the track, along with the beat drop. It serves as a nice change of pace from the rest of the album. 
The final track on the album, "Taco Truck x VB," brings back an old favorite of mine, "Venice Bitch," from Del Rey's 2019 album "Norman Fucking Rockwell!" The song begins in a mellow manner, with Del Rey recounting how she "met her boyfriend at a taco truck" which slowly fades into the lyrics of "Venice Bitch" with a more energetic instrumental than the original song. I think this pairing is a great way to cap off the album. 
Due to the album's length, I cannot possibly cover each song in as much detail as I would like to. There are many notable aspects of these tracks that deserve to be given the proper attention. However, I think I need to listen to the album a few more times (even though I have had it on loop for days while writing this review) for it to truly grow on me. While this album is not currently my favorite of Del Rey's, I still think it is an impressive project that is worth the listen.