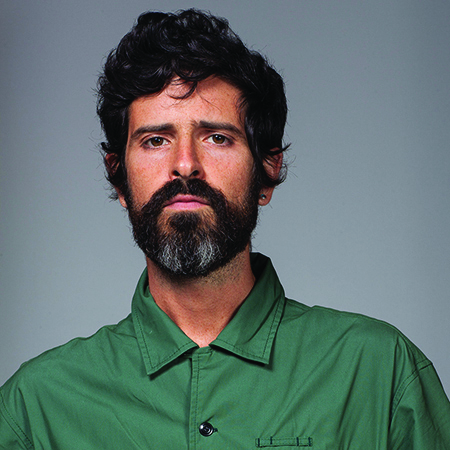 "STELLLLLLAAAAA!" was the name on everyone's mind March 15 as the winter storm bore down on the east coast, even resulting in a rare blizzard warning for Philadelphia.
But at the end of the day it ended up being nothing too serious. Surely Devendra Banhart fans were thrilled to find out that his show for March 15 at Union Transfer wouldn't be canceled. A solid crowd of fans braved the cold, ice and wind to see a great, intimate set by Banhart and his band.
After a very unique, part-improvisational opening set by members of Banhart's band, the whole gang plus Banhart himself took the stage to a warm round of applause. Banhart is a Venezuelan singer-songwriter who plays Americana, folksy songs often with free associative, poetic lyrics. It's hard to explain!
But he has definitely found his audience, Banhart released his ninth studio album "Ape in Pink Marble" on Nonesuch Records in 2016. He is a real quirky fellow in person. Donning a nice green sweater, he interacted with the crowd after nearly every song. Taught everyone how to say "thank you" in an Eritrean language at one point.
With a calming, vintage looking curtain backdropping a low-lit stage, Banhart and his band were in full control. The drummer, who was a TJ Miller doppleganger, really put in work behind the kit with mallets, brushes, sticks, everything! On "Long Haired Child" the keyboard and guitar guy had a sweet, sweet solo.
Banhart and company worked the setlist to masterfully work the momentum of the show. Atmospheric songs with ethereal vocals would be followed up by louder, more uptempo tracks like "Baby." Almost all of Banhart's songs seem to deal about love in one form of another. Though it can be shown in happier, upbeat songs and then some somber sounding tracks that you could listen to while having a good cry in the bath.
During a portion of the show, Banhart's bandmates absconded from the stage, leaving Banhart alone to take and play requests from the crowd. A knot of fans right in front of Banhart's mic fed him some quality requests and even helped him with the words when he blanked during "Won't You Come Over."
A Grateful Dead cover, "Fire on the Mountain," made it's way into the set shortly before the band closed with the classic tune "Foolin.'" The crowd really had to sweat out the encore, one of the longest waits in recent concert memory for me. But eventually Banhart returned sans sweater and played two dance-y tunes including the great "Carmensita."
It took a few years for Banhart to return to Philly but it was well worth the wait.