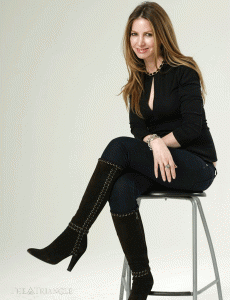 Designer Paula Hian, a Philadelphia native, has always aspired to work in the fashion industry. She has had an interest in fashion since she was 2, and throughout her childhood the future designer kept diaries filled with notes and drawings. Hian majored in art history at Northwestern University and enrolled in New York's Fashion Institute of Technology upon her graduation. There she was selected to travel to Paris, where she won first place for the U.S. in the contest Concours International Des Jeunes Createurs De Mode. Her winning dress now hangs in the Louvre's permanent collection.
Hian feels that what sets her apart from other designers is her love for designing. In the world of fashion, there are many trend-followers and people who copy similar styles. Hian is passionate about designing from scratch and offering original pieces.
"It's tougher because you are reaching to a customer that likes something because they like it, not because the media told them to," Hian said . She believes that luxury is something unique that not everyone owns. She said that she wants to bring genuine luxury back through her original collections.
This passion for originality has led to an appreciation for knitwear. Through knitwear, Hian feels that she is most able to utilize her artistic side and have more control in the design process. From beginning to end, from buying the yarn to creating the shapes, she is able to work with the material to create a piece that is her own. Hian also sees knitwear as an important trend this spring season. Other spring trends include black and white as well as feminine dresses paired with structured jackets. Hian's most recent collection includes a simple tank dress created out of a textured knit, which she styles with lace stockings procured from a recent visit to France.
Hian's trip to Paris is only a glimpse into her busy schedule as a designer. The seasoned fashion expert had this to say about the industry: "Fashion is not as glamorous as it seems. It is a lot of hard work, planning, effort, and it is never-ending. You have to be the kind of person that is always thinking ahead to the next season. Fashion evolves, and every season you are basically starting over." Her advice to any students pursuing a career in the industry is to gain real-life experience in the field, such as an internship.
Hian's work can be found locally at her store at 106 Gay St. in Philadelphia as well as in boutiques globally. In the near future, Hian hopes to expand her stores and establish an online presence.