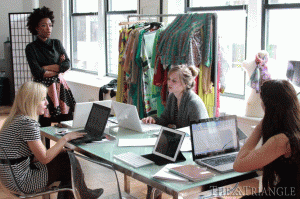 Looking for a chic way to spice up your look for spring? Try incorporating one of Mona Gilbert's signature pocket scarves into your wardrobe. The local designer's scarves are perfect to layer on those breezy spring mornings, and with their unique look, you will be sure to stand out.
Gilbert's start as a designer stems from the recommendation of a serger sales representative. When Gilbert purchased a sewing machine, the representative suggested she could make scarves to help defray the cost of the machine. Gilbert began researching scarves and wraps, and inspired by her research, she took to designing.
"I then grabbed a piece of fabric and made what I thought I saw. This piece became the one-sleeved shawl wrap that is now a part of my collection," Gilbert said. "I began making scarves, and they have evolved tremendously over the years."
Gilbert created the Monalisa collection, a unique assortment of scarves that has been widely successful in the Philadelphia region. Monalisa includes scarves in various fabrics, textures, lengths and prints, but her signature pockets are a recurring ascetic design throughout. Designs include a graphic patterned blue, tan and white scarf. Military green and simple black snoods look great for this transitioning season. Try pairing a plain white T-shirt with a graphic scarf, or try the opposite — pair a graphic T-shirt with a single-colored scarf. Either way you're sure to look fabulous with a Monalisa scarf around your neck!
The shawl wrap and majority of scarves in the Monalisa collection are under copyright due to their unique design and functionality of pockets. Look for Gilbert's spring collection in Aoki Boutique in Center City.