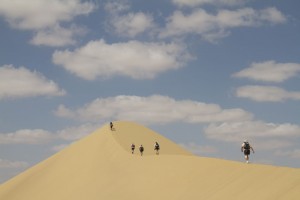 "Desert Runners" is a documentary about a diverse cast of amateur runners who attempt to complete one of the most difficult ultramarathon race series in the world. The film follows four runners on their quest to complete the 4 Deserts Grand Slam.
If you want to feel inspired and lazy at the same time, look no further than "Desert Runners." The Kickstarter-funded documentary, released in fall of 2013, follows the harrowing journeys of four runners whose mission is to complete the 4 Deserts Grand Slam: Atacama, Gobi, Sahara and Antarctica.
It's your basic underdog-hero plot: a ragtag team of amateur runners decide to take on one of the most difficult physical tests in the history of time, and while there are some bumps, cramps and digestive issues along the way, they manage to succeed. The only difference between this and any other underdog movie: all of this actually happened.
Director Jennifer Steinman and her crew followed in the footsteps of amateur athletes Dave, Ricky, Samantha and Tremaine over the course of 2010. Their goal was to complete all four of the 4 Deserts races in one year, thereby completing the Grand Slam. To date, only 28 people have ever completed the Grand Slam.
The movie begins by introducing the four runners-slash-supposedly regular people. Dave, 56, is a marketing director from Ireland. His reason for competing in the Grand Slam? "Well, I saw [it] on the Internet one night and I thought, 'That's cool.'"
Thirty-three-year-old Ricky is an American consultant based in London. Before starting the 4 Deserts races, he had never run the distance of a marathon. Samantha, 25, is a law student in Australia, and Tremaine is a 41-year-old private security specialist and single dad. "The idea was to find the most extreme thing," he said of his decision to run the desert races. And it really sounds like he found what he was looking for.
Each race spans seven days and 250 kilometers (around 155 miles). There are checkpoints along the way, but for the most part, the runners are on their own. Some form alliances and keep one another motivated, while others are left solo, limping through extreme temperatures and what can only be unbearable pain.
The Grand Slam certainly takes its toll, and not one of the four runners come away unscathed. Ricky vomits uncontrollably for most of the Gobi Desert race, though miraculously crosses the finish line. When he has trouble keeping down food and water in the next desert, he drops out. Dave, too, has problems with vomiting during the third race, but he pushes on. Tremaine suffers a leg injury and must pull out during the Sahara race. Samantha is assaulted by a would-be rapist in the middle of the Sahara Desert. A motorist scares the man away, and she runs away, eventually deciding to complete the race. "I have to remind myself," she said, "this is meant to be an adventure."
Many protein packs, bottles of water and blisters later, the gang arrives in Antarctica for the last of the four races. Dave and Samantha manage to finish the race and therefore become Grand Slam champions. Dave becomes the oldest male ever to complete the Grand Slam, while Samantha becomes the first female as well as the youngest person to do so (until 2012). Ricky and Tremaine also finish, but sadly did not complete the Grand Slam (though this doesn't make them any less superhuman).
Overall, the documentary tells each runner's story incredibly poignantly. Each athlete has his or her own reason for attempting to complete the Grand Slam, and sometimes that reason is even too complex for the runner to understand. Dave struggles with his own motivation, simply stating that his father left his family when he was young and that this is a chance for him to prove that he is better than that. Tremaine carries a banner with the phrase "Carla's Angels" on it to honor his late wife. "It's a part of my grieving process," he said.
At the end of the movie, it's tempting to think that you know what they went through: their physical and emotional pain, their extreme fatigue and incredibly strong will. You feel your feet ache and your pride bubble up at the thought of completing even one of these four desert ultra-marathons. While this movie will certainly leave you with a sense of accomplishment, it must be nothing compared to what these four runners experienced. Ranging from moments of extreme agony to elation, it's safe to say this documentary has it all.